Cosmoprof Asia 2022 in Singapore was a resounding success, empowering the industry ahead of its return to Hong Kong in 2023.
The Special Edition of Cosmoprof Asia, which took place in Singapore from 16 – 18 November, welcomed 21,612 attendees from 103 countries and regions gathered representing the future of beauty in the Asia-Pacific region. After three years hindered by the pandemic the Asian-Pacific region craved to have a chance to meet and resume business activities face-to-face.
The Singapore Cosmoprof Asia edition was able to answer to this request, being a truly international event with most visitors arriving from top 10 countries and neighbouring regions Singapore, Indonesia, Malaysia, South Korea, Philippines, Thailand, Vietnam, Hong Kong, India and Australia.
"The most influential players of the Asia-Pacific region met at Cosmoprof Asia in Singapore to restore consolidated collaborations and discover new potential partners for their business," said Enrico Zannini, General Manager of BolognaFiere Cosmoprof and Director of Cosmoprof Asia Ltd. "It was great to test the dynamic approach of the cosmetic industry and its interest in the Asia-Pacific region as a strategic market for future growth."
"This year's success of Cosmoprof and Cosmopack Asia was due to host nation Singapore's international access and overall safety, and support from the Singapore Tourism Board and Singapore EXPO," said David Bondi, Senior Vice President – Asia, Informa Markets and Director of Cosmoprof Asia Ltd. "It has been wonderful to see Cosmoprof Asia once again bringing together the world-wide beauty community, showcasing the most exciting trends, unveiling the latest innovations, and offering an exhilarating platform for networking and new business to take place."
The exhibition didn't disappoint the expectations also in term of the offer showcased with pioneering products and services, a wide range of business proposals of 1,202 exhibitors from 46 countries and regions, covering an exhibition area of up to 50,000 sqm. Among exhibitors, Mainland China, Korea, and Italy were the most represented countries.
Cosmoprof Asia 2022 offered 18 national and group pavilions from Australia, California, France, Germany, Italy, Japan, Korea, Mainland China, Malaysia, Poland, Singapore, Spain, Switzerland, Taiwan, Thailand, Turkey, UK and Global Shea Alliance (from 5 West African countries: Benin, Burkina Faso, Ghana, Mali and Togo).
The event registered the important presence of 230 selected buyers from 29 countries and regions, including Australia, ASEAN countries, India, Korea, Japan, Europe, Middle East, and the US.
Participants' feeling across the exhibition floor was positive regarding the show and optimistic when looking ahead to future business. Despite being held in smaller size in Singapore, the quality of buyers was high and had willingness to engage with enthusiastic interest in the variety of innovations. It really looks like, also in Asia, the beauty industry is starting a new, post-pandemic boom, after a deep crisis. One exhibitor commented: "people need to react and they buy more products. Beauty can really save the world."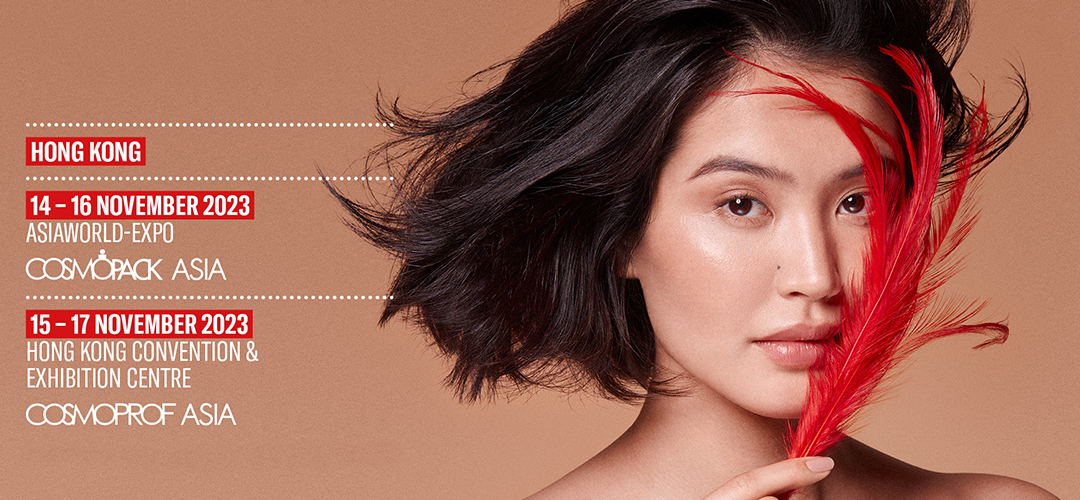 Back to Hong Kong
Despite the good result of the Singapore special edition, next year Cosmoprof Asia 2023 will return to its home turf of Hong Kong on the following dates:
Cosmopack Asia: 14-16 November 2023 (AsiaWorld-Expo)
Cosmoprof Asia: 15-17 November 2023 (Hong Kong Convention & Exhibition Centre)