BeautyIstanbul Online Regional Meetings will resume with the 5th and 6th appointments scheduled for February 10th – 11th, during which countries in the Sub-Saharan region will be the topic of conversation.
The BeautyIstanbul platform offers a series of online Regional meetings to all the exhibitors and buyers who will be participating in next Autumn physical edition, which is scheduled for October 14th – 16th, 2021 at ICC Taskim Istanbul, Turkey. These B2B online meetings are divided by area and represent a very effective way to keep in touch with market players throughout this long period in which physical exhibitions are closed in most countries of the world.
The first Online Regional Meeting was dedicated to Central Asia and had some 90 buyers in attendance. Held on November 11th , 2020, the focus for the 2nd Regional Online Meeting was East Africa, hosting 256 buyers, distributors, importers, retailers, and wholesalers from 13 East African countries along with 74 manufacturers and suppliers
The 3rd meeting on December 2nd was dedicated to Central America, while the 4th on December 3rd involved Caribbean regions' companies.
The next two appointment with BeautyIstanbul's international Online Regional Meetings will gather suppliers and buyers from the Sub-Saharan Africa region.
On Wednesday, Feb 10th 2021, will be held the first meeting featuring buyers from Cameroon, Central African Republic, Democratic Republic of Congo, Eswatini/Swaziland, Equatorial Guinea, Gabon, Lesotho, Republic of the Congo and South Africa.
from 13.00 to 15.30 (GMT +1, Yaounde, Bangui, Kinshasa, Malabo, Libreville, Brazzaville Time) – from 14.00 to 16.30 (GMT +2, Pretoria, Mbabane, Maseru Time) from 15.00 to 17.30 (GMT +3, Istanbul Time)
On Thursday February 6th 2021 another meeting will be held, scheduled to feature buyers from Angola, Botswana, Malawi, Mozambique, Namibia, Saint Helena, Sao Tome & Principe, Zambia and Zimbabwe:
from 12.00 to 14.30 (GMT 0, Jamestown, Sao Tome Time) – from 13.00 to 15.30 (GMT +1, Luanda Time) – from 14.00 to 16.30 (GMT +2, Gaborone, Lilongwe, Maputo, Windhoek, Lusaka, Harare Time) from 15.00 to 17.30 (GMT +3, Istanbul Time)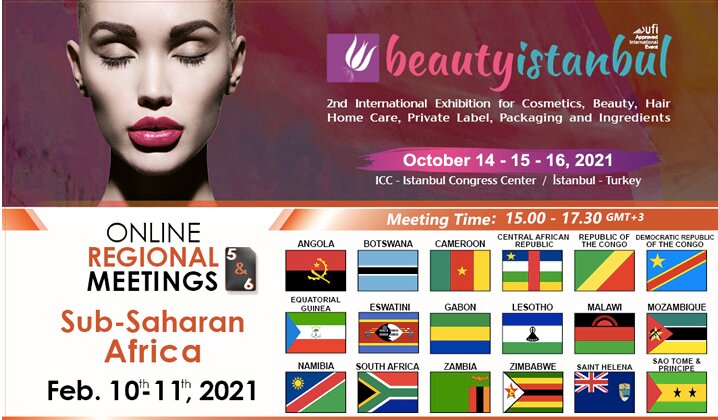 For more information and register for the event please refer directly to
https://beauty-istanbul.com/