Cosmetica Algeria is poised to relaunch the hair and beauty industry in North Africa from 15th – 18th February 2023
Across the African Continent, we are witnessing more and more events dedicated to the hair & beauty industry. These represent a valuable opportunity to meet both local and some international traders which are looking for new opportunities in this fast-growing market.
Supported by the Minister of Trade & Export Promotion, Cosmetica Algeria will be held at the SAFEX Exhibition Center, Pavillion G, from February 15th – 18th 2023.
As the largest international exhibition in the country, the Algerian show covers various sectors of the beauty industry: hair, nails, perfumery and cosmetics, natural products, packaging, machinery, contract manufacturing, raw materials, spas, and more.
The exhibition is the perfect platform for distributors, wholesalers, retailers, salon owners, hair stylists, makeup artists, beauty & clinic centres, buyers & the public to meet with more than 75 exhibitors from 25 countries and discover the newest products, innovations, trends & technologies.
Among its most attractive features, the organisers underline the importance of the chance the exhibitors will have to meet with over 10,000 customers and buyers, to enhance their position as a leading product manufacturer or service provider in the market and to raise their business profile. They also emphasise the opportunities to launch new products or services and to expand their business by meeting decision-makers and potential business partners, with access to the region's cosmetics market – all in one place.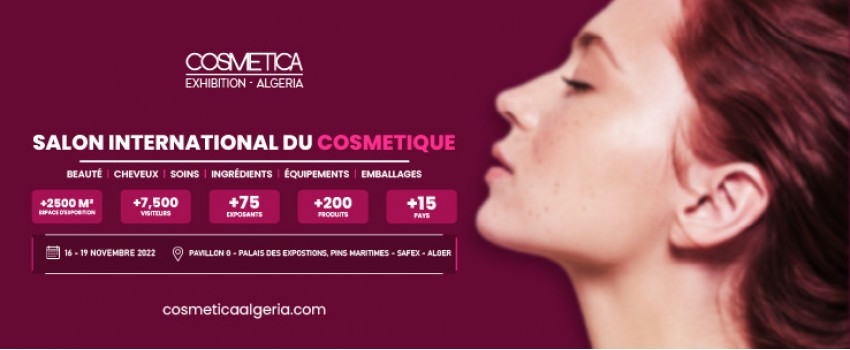 Special Features
Special features of the event worth mentioning are:
the Network that will be built among suppliers and manufacturers, before and after the exhibition, made possible by the B2B Application, which facilitates meetings on-site and broadens business opportunities.
The Cosmetica Algeria Business Zone, an exclusive program designed with the aim to encourage decision-makers and buyers to visit and enjoy a pleasant and uninterrupted experience at the show.
Another new initiative is the Start-up Artisan Zone, with which Cosmetica Algeria will be choosing 10 of the best Startups and Artisans in Algeria for the unique opportunity to present their products during the 4 days at the show.