This celebrated French hairdryer manufacturer has enjoyed an infusion of energy and ideas from its new owner and is ready to write the next successful chapter of its future global success story.
Estetica Export has interviewed Nicolas Chausson, the new owner and CEO of Velecta® Paris.
Mr. Chausson, how did you become the owner of Velecta® Paris?
"It is an old company founded in 1936 that has changed ownership a number of times over the years. The founder, Mr Mougins, sold it in the '50s to L'Oréal, which ran it for about 30 years. In the '80s, they decided to disinvest all accessories production and sold Velecta to Mr. Guillosson. After another 25 years, when the owner was ready to retire, I happened to be looking to buy and as I had known Velecta® Paris for many years, I reached an agreement, which led to buying the company 2 years ago.
What is your background?
"In the 90's, I started out on my career by joining L'Oréal Professional Division in France. Later, I also worked abroad in New Zealand and other countries in Europe, before becoming responsible for Redken in Europe. In 2006, after 12 years at L'Oréal, I decided to resign and open my own business. I had the chance to become the French distributor of the UK's ghd. It was like a start-up business because it was new in France but it became quickly very successful and profitable. In 2017, things changed because ghd was acquired by Coty Group, so I decided to leave the company and looked for another adventure".
Where does the name Velecta come from?
"The name Velecta, in French, is short for Ventilation Électrique Appliqué (which means Electric Vent Machinery). We decided to keep this name because it is a good name for a brand, easy to pronounce in most languages and easily remembered. Back in the '50s, for some reason, the company used another brand name, Paramount. Velecta came back in the 80s with a change of ownership and was used alongside Paramount. Now we want to use Velecta® Paris to underline the origin of the brand".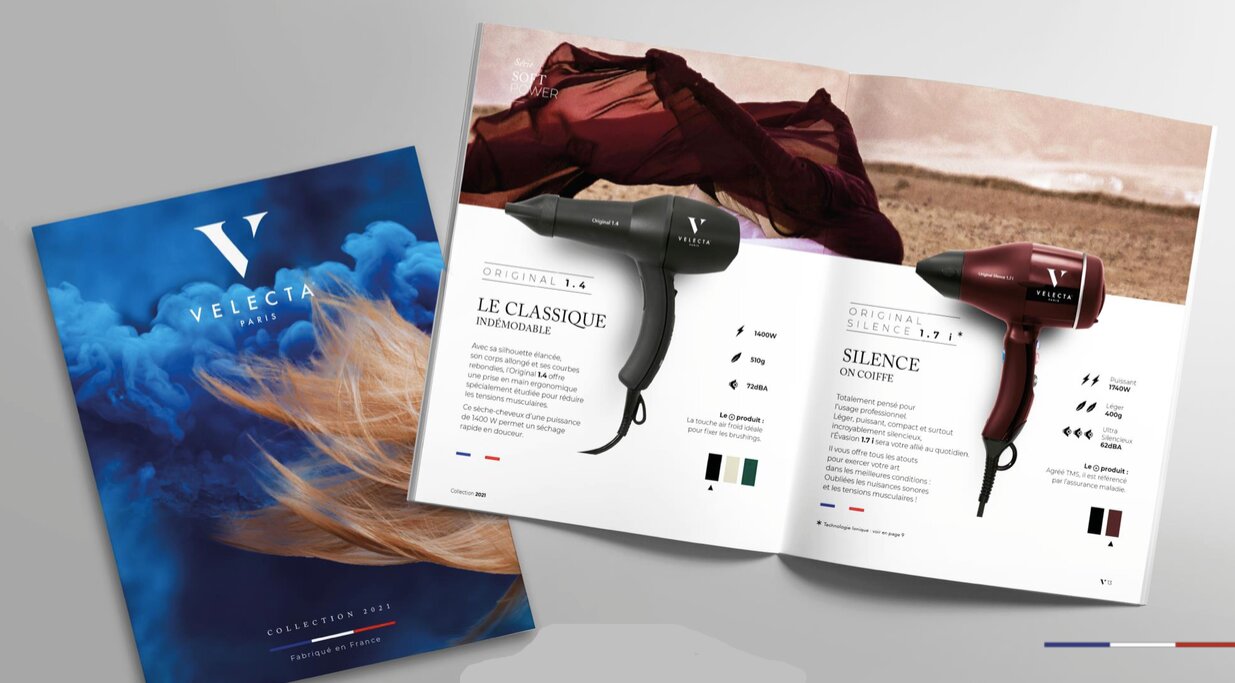 So what are your immediate plans?
"For years, I believe Velecta has been like a 'sleepingbeauty' – a bit dusty, a bit old-fashioned; at the same time as being a very good product: high quality, reliable but not very exciting. In the past, they did not do much marketing or sales promotions. I decided to buy this business because I believe there is amazing potential.
I have a very ambitious project that is to transform a 'manufacturer' into a real 'brand'. To do that we want to revive some original values: besides relaunching the Velecta® Paris brand, we want to underline "Made in France", while keeping the professional salon market in mind when designing our products.
For the last year and a half, we have been working hard to redesign the brand by touching all aspects from brand identity to innovation, from packaging to communication. We kept our work secret until now, when we are ready to introduce it to the world".
What are the distinctive characteristics of Velecta® Paris Products?
"We are in a niche business, we do only hairdryers for professional salons. And Velecta has been loyal to this mission for more than 80 years.
We want to keep 'Made in France' as one of the important features of our brand. It might not interest everybody, but I believe there is a consistent niche of the market that will appreciate it. And I want to explain why 'Made in France' is so important. First of all, it means 'humanity': talking face-to-face being recognized as human beings are values we do not want to forget – being identified as a reachable, accessible brand is paramount to us.
Then there is the 'know-how of a country like France' – characteristics that define being French and guarantee the uniqueness of the products we make. And also 'proximity': which means 'reactivity', for example, being not too far from my clients means I can react quickly offering service, fast delivery and support when needed. Finally 'eco-responsibility': being close to the market help a lot the control of polluting materials and energy waste".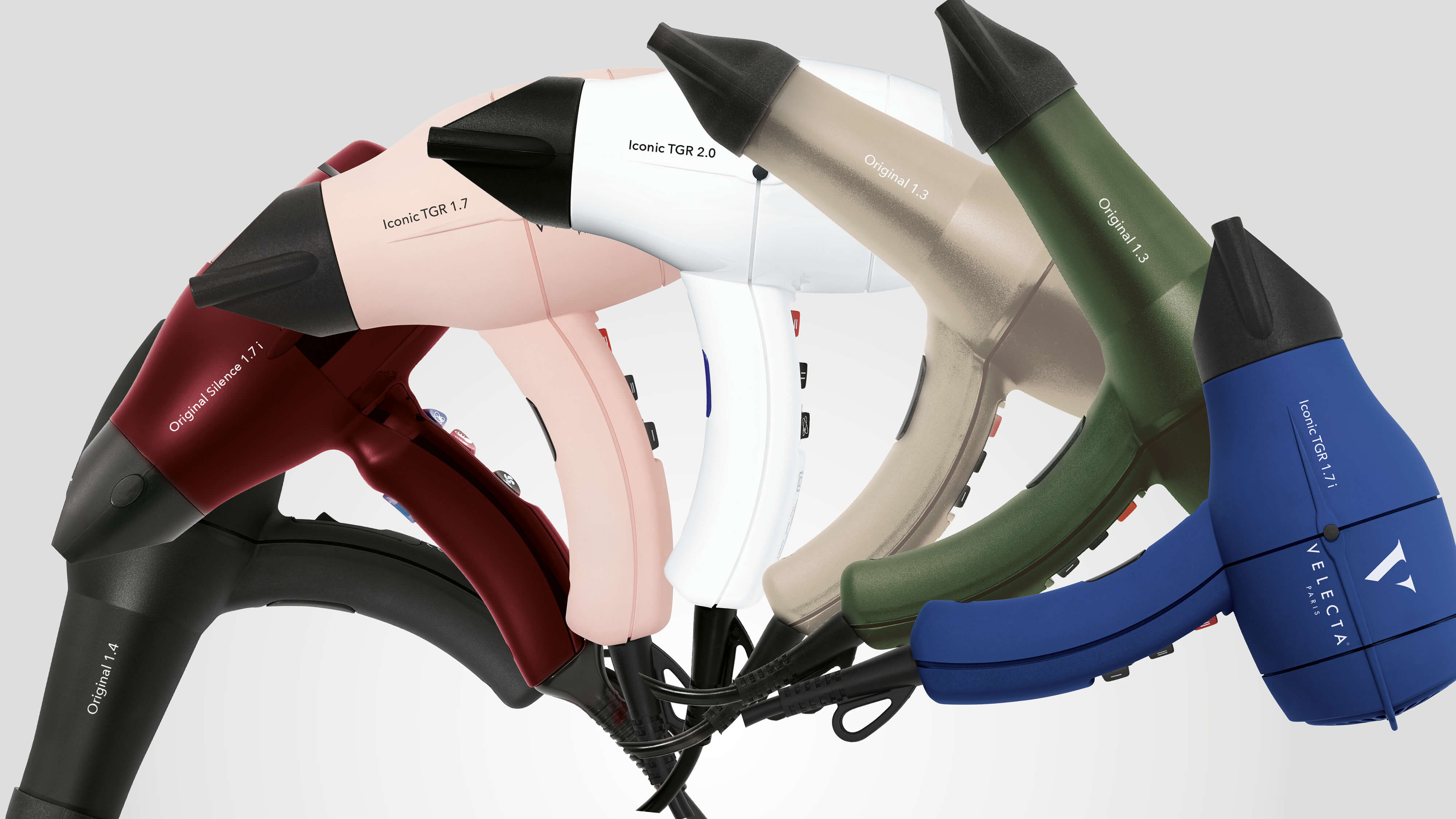 How important is export for you?
"We are a small business, only 5 million Euros turnover a year at the moment, of which 50% is exportation. I believe we can reach a turnover of about 30 – 40 million in about 5 years. I have to say that the export we have now is not the result of a proper strategy, but just a collection of opportunities that occurred here and there over the years. And these opportunities have never been managed professionally. For example, we do not have distribution in UK, Spain or Germany and only partial distribution in Italy. These neighbouring countries should be the first target for a French brand looking to develop distribution with a logical export plan".
So what is your plan for export?
"We are starting a brand new dynamic for our export. We are looking for strong distributors and business people who can match the growth potential Velecta® Paris has, to develop it together with us. Someone who believes that having a French brand in their portfolio is going to enhance business. We want to set up our export network starting with the neighbouring countries and then extending to markets such as Scandinavia, USA, Canada and Asia – markets which can appreciate the values we are offering.
I will take my time to find suitable partners – people who can appreciate what we have to offer and wants to create a solid and long-lasting collaboration with us".
How was 2020 like for your company?
"It was a difficult year. But I like to be optimistic. What makes it difficult for our economy is the fact that we did not have visibility and uncertainty is still dominating the scene. During the lockdowns, I saw two kinds of attitudes: some companies kind of froze, halting all activities and just waiting for the end of the crisis. They will come out exactly as they went in a year ago. We decided not to stop the investment: I wanted to continue to renew all aspects of the brand, even creating new products. So, when we will come out of all this, I am sure we'll attract a lot of attention thanks to the amazing new proposals we'll be able to offer.
One of the most important values of the new Velecta-Paris is continuous innovation: a strong innovation plan that will start with the first re-launch and carry on from there."
For more details please check: https://www.velecta-paris.com/
In the main picture:
Nicolas Chausson, owner and CEO of Velecta® Paris