Set over two floors and more than 1,500 sq. ft. on Brushfield Street in London's trendy Spitalfields, the first Amazon Salon offers new technology and its own take on professionalism.
It is somewhat surprising to receive news that Amazon, one of the biggest companies in the world and leader in e-Commerce, is opening a hair salon. The company had already made a move in the direction of the professional hair business when they opened Amazon Professional Beauty, a store inside Amazon Business carrying the slogan "Professional beauty products delivered directly to your chair", offering a selection of more than 10,000 salon and spa products and supplies. It was no big surprise that the e-store was successful especially during a pandemic, when e-commerce has proved extremely rewarding. But to open a hair salon… that's a different matter altogether!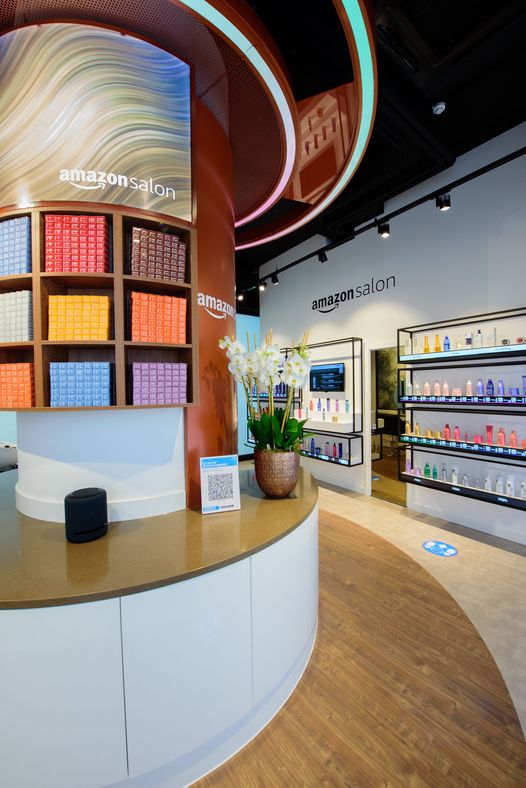 Introducing a special salon concept feature, by which customers who will be able to experiment different virtual hair colours using augmented reality technology, Amazon will also provide entertainment on Fire tablets situated at each styling station. Furthermore, new "point-and-learn technology" will be implemented in the salon to allow customers to simply point at the product they are interested in on a display shelf and the relevant information, including brand videos and educational content, will appear on a display screen.
Hair services will be provided by Elena Lavagni and her team. Elena owns Neville Hair & Beauty, an independent salon based in London and has great experiences as she has overseen the styling of major events such as Paris Fashion Week and Cannes Film Festival
Initially, Amazon Salon will only be open to Amazon employees only before going on to open up its booking system to the general public in the coming weeks.
https://www.facebook.com/amazonsalonuk
https://business.amazon.co.uk/en/find-solutions/simplify-buying/selection/pro-beauty