At a time when companies are resuming both their domestic activities and one more looking towards international trade, we are posing some questions in order to better understand their current situation and how they see it developing in the near future.
We are now focusing on the Asia Pacific Region and the questions we asked were:
– Can you comment about the situation in your country and in your export markets at this point of the CoVid-19 health crisis.
– How do you see the future development of the crisis for the cosmetic industry?
– Are you proposing any product specifically dedicated to the needs after the CoVid-19 crisis.
Trichovedic / Stylz Salons
Australia
Here is the feedback from John Cook, General Manager:
"We have information that things do seem to be improving with retail opening up in many countries. Things here in Australia are starting to return to 'normality' but to date Australia has got through this crisis remarkably unscathed; just 100 deaths so far, which is most probably lower than the flu!
Our salons have been reopened for 4 weeks now and we are so far about 40% down on last year but we are getting a fair bit of financial help from the government and our landlords have been ordered to negotiate rent during this period. The irony has been that hairdressing salons were never ordered to close but beauty salons, massage, nails etc. were; crazy! We have not released any products for the crisis but all of the wholesalers have rushed into hand sanitiser and I think there is now a glut of the stuff. We have made quite a statement to clients that we are very serious about biosecurity measures which I have attached."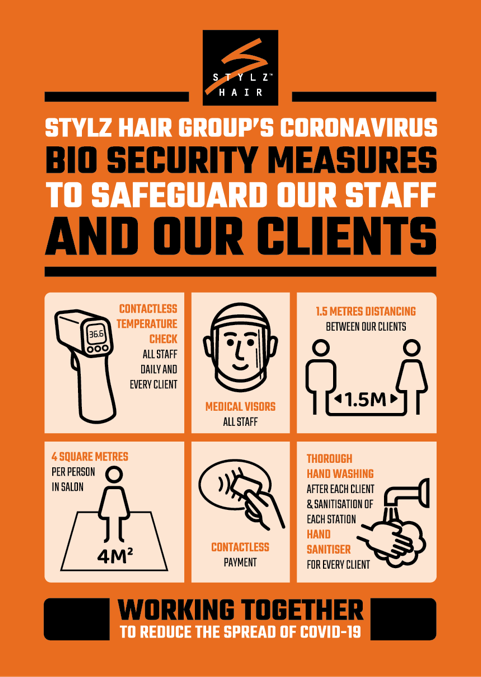 Shiseido Professional Division
Malaysia
Mr. Romeo Joss, General Manager at Shiseido Professional Malaysia sent us this reply:
"No one product has been developed specifically for CoVid-19 crisis, we'd rather offer an introduction of more hair services made available to be executed within 1 hour, such as hair treatment or hair makeover doable within an hour time, in order to practice social distancing, as requested by the Government and the Ministry of Health on 7th June. Overall the outlook for our country remains reserved and sluggish, still impacted by the pandemic and with consumers nationwide still feeling very cautious. Adopting a "new normal" will be the key to moving forward. During the Movement Control Order interim, it is strongly believed that consumers are exploring various channels available online in order to stay in touch with beauty and cosmetic trends, and therefore online retailing platforms have seen massive growth thanks to the convenience and peace-of-mind that they can offer."
———
KAO Asia
Hong Kong
A comment from Jan Poon, Marketing Manager Asia / Hong Kong:
"Kao Salon Division in Asia is still planning to introduce its award-winning brand Oribe; also, the new and revolutionary NUWAVE salon service will be launched in Q3, which will help salons to get back into business.
The global CoVid-19 pandemic has inevitably impacted salon business in Asia; we recognise the importance of helping salons to get through the hardship and recover as they emerge from the crisis. Our Kao Salon Industry Recovery Initiative supports salons with tangible and localised resources to not only withstand & thrive, but also to rebuild their relationships with consumers."
This crisis triggered consumer behaviour in digital media consumption. Digital transformation would be on the rise in our industry, from e-commerce to virtual education. As a global player, Kao Salon Division would put sustainability under the spotlight to create a better future for the world." – Added Eddie Wan, Asia Commercial Vice President, Kao Salon Division.
————
Ming & Lee
Hong Kong
A short comment from Joyce Lee, Export Manager, Ming & Lee / Shine Moist:
"We have put together a promotion, specifically dedicated to what will be needed after the CoVid-19 crisis: a value pack with low price products that we believe will become very popular to cut cost and help businesses survive during the recession period.At the current point in the CoVid-19 health crisis we just want to say: stay strong and stay healthy.Looking ahead, we believe online purchase platforms look very promising and will prove very important growth in kickstarting sales growth. Physical shops will probably keep having something of a hard time until a vaccine is developed and approved."
———
Salonzo
Vietnam
A comment from Tran Hoan Sinh General Manager at Salonzo Cosmetics JSC
"Due to CoVid-19 crisis, our turnover has been reduced dramatically, so unfortunately, we have to cut operating costs such as: staff, marketing, business travel etc. We also have to reduce our overheads by ordering less from our suppliers to controlling our financial resources. The market has shrunk quite a lot because beauty services are not seen as being essential.As a consequence, also salons have to reduce operating costs and be more inventive in the services they can offer customers."