Sponsored by Global Cosmetic Industry and Cosmetics & Toiletries, Beauty Accelerate is a collaborative forum that promises to deliver virtual presentations on business and brand strategies, emerging technologies, and market data. It also incorporates live Q&As and exclusive roundtable discussions.
In anticipation of Covid19 and well in advance of other Beauty events, Beauty Accelerate had already embraced a different model, cutting booth space while enhancing dedicated meetings between small groups of operators in the Beauty Industry wanting to discuss specific topics.
Therefore, it was not difficult for Beauty Accelerate to adapt to a purely online digital model thanks to the possibility of holding meetings and conferences remotely.
Taking place November 2nd – 5th 2020, this 100% virtual event is dedicated to beauty marketing experts, founders, executives, R&D managers and cosmetic scientists. Attendees will learn to solve innovation challenges, develop best practices for collaboration and gain knowledge of emerging innovations, while navigating the disruptions of the past year.
Sponsored by Global Cosmetic Industry and Cosmetics & Toiletries, this collaborative forum will deliver virtual presentations on business and brand strategies, emerging technologies, and market data, as well as live Q&As and intimate roundtable discussions to share further insights.
Here is a 5-day summary:
NOVEMBER 2 & 3: BEAUTY TECH BRIEFING
Monday & Tuesday's "Tech Briefing" will be an exploration of new and emerging technologies and research that will be used to drive future beauty innovation and cosmetic product development.
NOVEMBER 4: BEAUTY'S NEW NORMAL
Wednesday will feature curated panels and presentations regarding near-term challenges and future innovation needs for brand leaders, marketers, R&D and product development professionals, and more.
NOVEMBER 5: ROUNDTABLE DISCUSSIONS VIA ZOOM
Thursday will complete the program with intimate face-to-face discussions on today's most pressing questions. Led by R&D and marketing experts from our program, Roundtables will be held through Zoom, a popular video conferencing platform.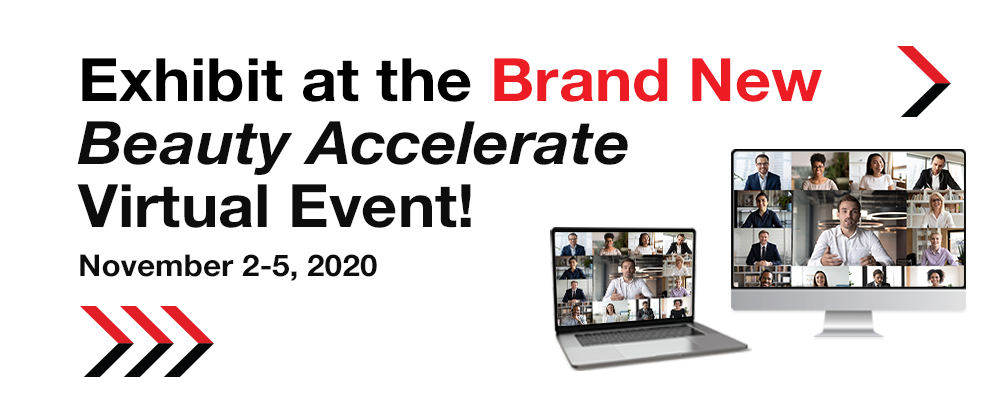 Themes
1. Wellness Meets Beauty
In a high-stress year, the intersection of consumer well-being and beauty is more powerful than ever. A range of talks will address top opportunities in the sphere.
This panel of brand leaders will discuss the power of well-being-powered brands in unprecedented times and will conclude with a live Q&A.
As consumer needs for beauty and self-care have amplified post-COVID-19 beauty care trends are explores to identify ingredient solutions and creative concepts, addressing increasingly prevalent and likely enduring behaviour.
2. Beauty Retail Disruption
E-commerce boomed amid consumer fears and regional lockdowns, forever reshaping retail. Beauty Accelerate Virtual explores a range of implications.
Experts will discuss the boom in e-commerce, brick-and-mortar changes and best practices, the enduring power of sustainability, shifting consumer needs.
3. Sustainable, Clean & Conscious Beauty: The Future
Between increased consumer demands and emerging technical innovation for sustainable and clean formulations, conscious beauty is on the rise.
4. Beauty in the New Normal
The world of beauty and personal care has forever changed in the wake of COVID-19. A range of presentations will explore the multi-faceted impacts of this unprecedented year, as well as the innovation and market opportunities they present.
In this uncertain time, consumers are deeply concerned about the impact of COVID-19 on their health and economic situation. This leads to a focus on basic needs and a change of habits and shopping behavior.
5. Skin Care: Leading-edge Innovation
Skin care's dominance in beauty has accelerated during the pandemic. NPD data shows that U.S. prestige skin care sales totaled $1.1 billion in Q2, a year-over-year drop of just 18% during the peak of store closures. During that period, e-commerce sales spiked 93% year-over-year.
Nielsen data shows that mass facial skin care grew more than 22% year-over-year in the first half of 2020, led by a 42% rise in online sales. Grocery channel facial skin care sales rose 14.5% for the first half of 2020.
Special focus on China, where skin care represented 70% of the country's beauty sales in April.