After its success at the end of 2021, the Nigerian beauty fair is poised to resume its full potential at the next appointment scheduled for Nov 29th- Dec 1st, 2022
It was with a sense of great joy that participants went to Lagos to celebrate the reopening of Beauty West Africa, the most important event of its kind in Nigeria.
After the long pandemic times, it felt surreal to see so many beauty industry players back together at the Landmark Centre, all under one roof. It made everybody realise that the beauty industry in West Africa is open for business, and will continue to grow.
Despite the reduction in size due to the pandemic and travel restrictions, the last edition of the show hosted 105 exhibitors, 3,094 visitors and 42 speakers confirming itself as one of the leading professional beauty trade exhibitions in the African continent. Visitors were able to meet distributors from Lagos as well as all the provinces of Nigeria

For the next edition, 29th November–1st December 2022, still scheduled at the Landmark Centre in Lagos, Nigeria, organizers expect to reach much greater numbers expanding not only into Hall 2 but, for the first time, spreading into a third hall to keep up with demand for exhibition space.
A special mention goes to the new conference format introduced in 2021, in partnership with Beauty in Lagos. It was a huge hit! With the floor packed with delegates from start to finish, every day.
In 2022 Beauty West Africa is bound to return with all its features showcasing new exhibitors, feature areas, panel discussions, country pavilions, prize giveaways, international hosted buyers, matchmaking software and more!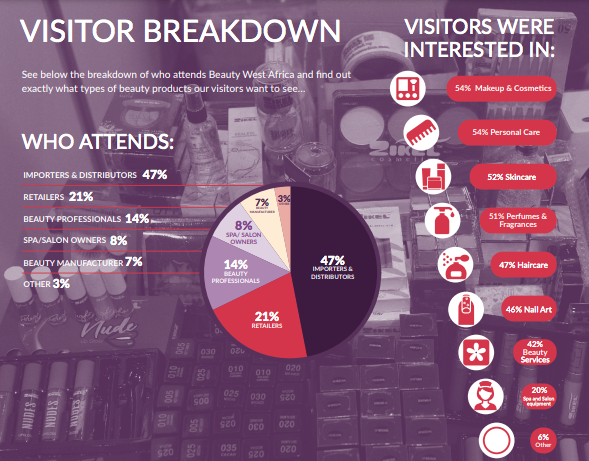 The Venue
The Landmark Centre is West Africa's premier venue for exhibitions, conferences and trade shows. With a capacity for over 25,000 people, the venue is Nigerian first choice for international exhibition organizers.
The Landmark Centre is located in the business hub and upmarket area of Victoria Island, Lagos. Positioned right on the coast of the Atlantic Ocean the venue has a truly iconic backdrop of the exhibition centre with its beautiful views of the ocean.
The Landmark Centre is part of the newly formed Landmark Village. The Landmark Village provides world-class facilities for exhibitors and visitors There is also the newly opened Landmark Beach club, which offers exhibitors the opportunity to soak in the sunshine whilst relaxing on a beach which is on par with any across the world.