BeautyIstanbul offers regional online meetings all-year round to facilitate interaction between brands and buyers, making it one of the most digitally developed trade fairs in the world.
Since their first edition in 2019, BeautyIstanbul's organizers are characterized through being deeply involved in online activities running alongside the physical event.
"Our online platform has been active since January 2019 – much earlier than the outbreak of the pandemic," says Yavuz Er Project Manager of the fair. "We wanted to attract buyers and brands with an effective tool that is available 365 days a year. Today, we have over 12,000 buyers from 179 countries using the platform on a regular basis. This year in May, we completed our platform with a video-meeting feature to enhance communication between parties".
The BeautyIstanbul platform offers a series of online Regional meetings to all the exhibitors and buyers who will be participating in next year's physical edition, which is scheduled for October 14th – 16th, 2021 at ICC Taskim Istanbul, Turkey. These B2B online meetings are divided by area and represent a very effective way to keep in touch with market players throughout this long period in which physical exhibitions are closed in most countries of the world.
The first Online Regional Meeting was dedicated to Central Asia and had some 90 buyers in attendance. Held on November 11th, 2020, the focus for the 2nd Regional Online Meeting was East Africa, hosting 256 buyers, distributors, importers, retailers, and wholesalers from 13 East African countries along with 74 manufacturers and suppliers from Turkey, China, Croatia, Egypt, India, Israel, Italy, Lebanon, Pakistan, Poland, San Marino, the United Kingdom and the United States of America.
Professionalism and effectiveness are the main features of these meetings, which offer real and serious business contacts for participating brands and buyers. The organizers make sure that contacts are exchanged at the end of each event.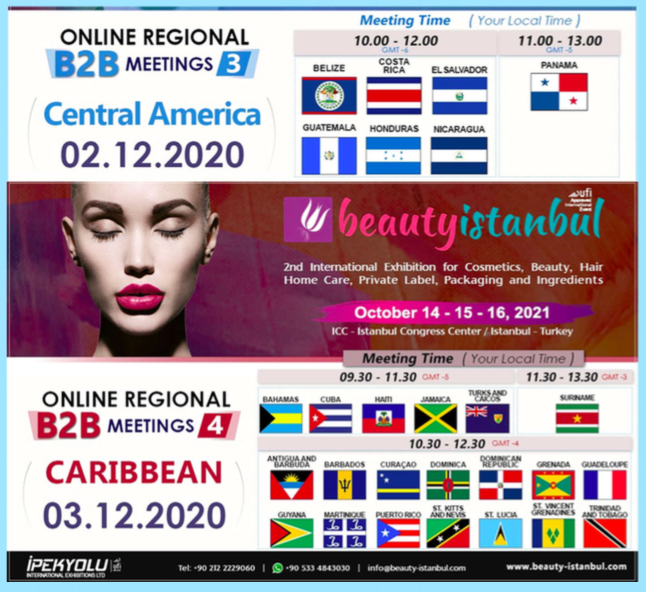 The program of Regional Online Meetings will be as flows:
December 2nd 2020: Central America: Belize, Costa Rica, El Salvador, Guatemala, Honduras, Nicaragua, Panama.
December 3rd 2020: Caribbean: Bahamas, Cuba, Haiti, Jamaica, Turks and Caicos, Suriname, Antigua e Barbados, Barbados, Curacao, Dominica, Dominican Republic, Grenada, Guadalupe, Guyana, Martinique, Puerto Rico, St Kitts and Nevis, St Lucia, St Vincent Grenadines, Trinidad e Tobago.
In January 2021 other Regional online meetings will be organised (exact dates to be decided) in other important areas: sub-Saharan Africa; South America; West Africa