Following on with the trend for online fairs, CBE Shanghai has confirmed that from 9th – 11th July it will supplement the physical event with a wide range of digital support to counterbalance the issue of travel restrictions.
The 25th China Beauty Expo in Shanghai is ready to kick off. As with many other exhibitions, it was postponed from its original dates in May; since then organisers have had many doubts over the possible difficulties that the post-pandemic period might hold over an exhibition of this size. It has, however, been confirmed that on 9th – 11th July the show will go ahead, despite concerns over the free flow of visitors and exhibitors, especially in reaching Shanghai from the rest of the world. Therefore, the organizers have conceived a plan for those unable to travel at this time but still in need to keep up with the current development in China and prepare to jump-start their business post pandemic.
The digital support plan comes in two formats:
Beauty Insider
An insightful online news magazine, highlighting current beauty industry developments, as well as companies and business partners to connect with.
CBE Online Business Matchmaking
An online service to create connections between featured exhibitors at the current China Beauty Expo and Supply World.
For the latest updates on the 25th China Beauty Expo and Supply World, please visit the website.
B2B Online Matchmaking
In these challenging times, CBE proposes B2B Online Matchmaking to bring business to you at your fingertips. It includes the following services:
• Receive weekly recommendations of premium Chinese beauty suppliers, importers and online retailers
• Get connected with these companies through a dedicated matchmaking service outside of the physical event
• The service is available prior to CBE and Supply World, which means you can make enquiries and conduct business even with the travel restrictions
• You may also specify your request for more precise matching of finished products, professional products, production supplies
• Most importantly, this service is free of charge
Who Can Participate?
Those who have an interest in working with premium Chinese beauty companies:
• International brands
• Brand owners
• Manufacturers
•
What are the matching criteria?
Every week, CBE's team selects a number of premium Chinese beauty suppliers, importers and online retailers to be showcased from the Finished Goods, Professional Products and sectors.
On the other hand, every week, they also handpick a range of CBE and Supply World exhibitors who are keen to work with international companies.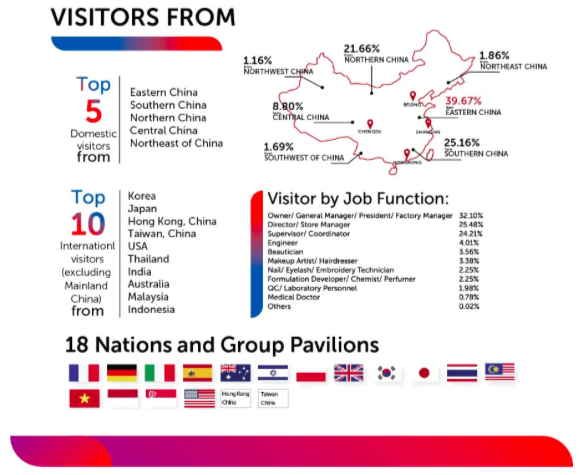 About China Beauty Expo Shanghai
One of the major Beauty fairs in China, in 2019, the 24th edition of China Beauty Expo welcomed 512,300 professional visits from 80 countries and regions. 18 country pavilions saw a total of 3,500 exhibitors and over 10,000 brands covering the entire beauty supply chain from finished beauty products to the latest packaging solutions.
Skin Care, Make-up and Colour Cosmetics, Fragrances, Make-up Accessories, Personal Care, Household Detergent, Nature and Health Beauty Products, Franchises and Retail Stores, Importers, Agents and Distributors.
Beauty Salon & Spa Products and Equipment, Professional Makeup, Nail Care and Tattoo, Hair Products and Equipment, Professional Beauty Accessories, Beauty Schools, Institutions and Other Service Providers.
OEM/ODM, Private Labelling, Raw Materials and Ingredients, Packaging, Pumps/Valves/Sprayers/Caps and Accessories, Colour Cosmetics Packaging, Tubes, Printing, Paper/Boxes/Bags and Machinery
https://www.chinabeautyexpo.com/en/homepage.html