As the opening of Cosmoprof Worldwide Bologna and Cosmopack from March 16th–20th 2023 gets ever nearer, we take a look at the importance of awards for the international hair community.
Innovation and research are a big part the foundation of the success of the human species over time. That is why in any enterprise it is important to identify and congratulate those who perform better, those who lead the way and those who help everyone improve their daily work. Equally important is recognition for those people and companies which create better solutions to offer to their clients.
In the hair & beauty industry, this role is played with extraordinary efficiency by the Cosmoprof and Cosmopack Awards. These are dedicated to products, formulations, packaging, design, technology, materials, ingredients, and sustainability – celebrating innovation and excellence all over the world. This project by Cosmoprof Worldwide Bologna is made possible in partnership with BEAUTYSTREAMS and has three main sectors:
Cosmoprof Awards for the most innovative brands in the beauty industry
Cosmopack Awards for the most innovative solutions in the industry
The Lifetime Achievement Award which each year goes to the founder of a company that has distinguished itself in one of the sectors of our industry.
Participation in these awards is open to all confirmed Cosmoprof Worldwide Bologna 2023 exhibitors who have developed an innovative brand and/or solution that was launched on the market after March 2022.
To learn more about the rules and terms and conditions visit the Cosmoprof & Cosmopack Awards section.


Cosmoprof Awards highlights the best of colour cosmetics, hair, nail, skincare and beauty salon products. Products will be selected among all exhibitors in the different sectors. Three finalists will be selected for each of the seven categories.
Make-up Products -Face, eyes and lip products.
Nail Products: Nail care, nail colour, and nail art.
Skin Care Products: Facial care only.
Personal Care & Body Care Products:
Body care, sun care, personal care and toiletries.
Hair Products: Hair care, scalp care, hair colour, and hair styling.
Home & Professional Devices & Tools: Tools & devices for the face, body, nails, and hair.
Green & Organic: All product categories that are labelled green and/or organic.
In 2023, new categories have been introduced as well as new evaluation criteria that the jury will follow to select the winners. The main concepts are: innovation, marketability, marketing impact, promotion and cultivating relationships, social media impact, innovative and outstanding omnichannel presence.
For the Natural & Organics category, the following aspects will be considered: improved environmental footprint, sustainable packaging materials, recyclability, fair trade / ethical sourcing, and refillable solutions.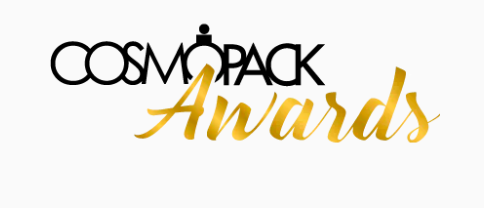 Cosmopack is the leading international event fully dedicated to the entire supply chain of the cosmetics industry it showcases ingredients and raw materials, contract manufacturing and private label, packaging, applicators, machinery, automation and full-service solutions. All these products are living a very turbulent period as innovation pushes companies to compete hard in the market and therefore makes this year's Cosmopack Awards even more significant.
The Cosmopack Awards celebrate innovation and honour excellence in packaging design and formulation. The Awards formally recognize the absolute best presented by Cosmopack exhibitors. Participation in the competition gives brands a unique opportunity to stand out in the crowd and to boost brand awareness through exposure to buyers, industry professionals and trade media.
Cosmopack Awards will select three finalists for each of the seven categories
Make-Up Formula: face, eyes and lip products formulations
Nail Formula: nail care, nail colour, and nail art formulations.
Skincare Formula: skincare, body care, sun care, personal care, and toiletries formulations.
Haircare Formula: hair care, scalp care, hair colour, and hair styling formulations.
Packaging, Design & Materials: packaging for make-up, nails, skincare, hair, toiletries, personal care, and fragrances.
Innovation Technology: raw materials, machinery, and solutions.
Sustainability: ingredients, formula, packaging, and production process.
The new evaluation criteria will be based on: innovation, marketability, sustainability, and execution.
The Lifetime Achievement Award
recognizes the most innovative professional or business founder nominated from throughout the entire global beauty industry. The award is given to a distinguished change maker who has demonstrated risk-taking talent and tenacity to reshape our sector.
The winner will be honoured during the Cosmoprof Worldwide Bologna Gala Dinner, which will be held on Friday, March 17th, at Palazzo Re Enzo (in the centre of Bologna city).