The 18th edition of Cosmoprof North America was the first one to open to the public after the long exhibition lockdown. The cosmetics Industry of North America had the pleasure to meet again, exchange information and resume business.
Las Vegas, Nevada has again hosted this event – the largest B2B show on the American Continent and the first Cosmoprof exhibition to be back in business. Exhibitors couldn't hide their enthusiasm and on occasions their emotions at being able to return to meeting in person and having the opportunity to showcase also a large number of new ideas and products.
Besides the traditional main areas: Cosmetics & Personal Care (retail), Professional Beauty (for salons and SPA) e Cosmopack for packaging), some special sections have also been particularly welcomed by visitors like Discover Beauty, Discover Beauty Spotlights, Discover Green, The Beauty Vanities and Tones of Beauty.
CBD Beauty debuted in a special area inside the Green Village, where exhibitors showcased a wide selection of natural products. A new Mentorship Program for enterprises was also activated, offering exhibitors the unique opportunity of one-to-one sessions with international experts in sales, marketing, branding, finance, export, digital marketing, SEO, social media, new press trends and multicultural markets.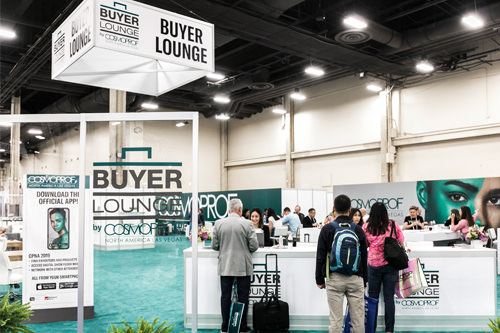 Once again, The Buyer Program proved very popular; a match-making system that connects exhibitors and buyers with the participation of brands like Bloomingdale's, Cos Bar, Cult Beauty, Nordstrom and The Detox Market.
Among the most acclaimed seminars presented by CosmoTalks we'd like to mention:
"CBD: The Beauty Ingredient Trend That Keeps Growing"
Hosted by Happi Magazine, "Keys to Growth in Prestige Beauty" by The NPD Group, and "State of the Supply Chain –
The Imperfect Storm" in cooperation with the Independent Beauty Association.
Another mention goes to CosmoTrends, the reportage on the trendiest products of CPNA exhibitors created in collaboration with the agency BEAUTYSTREAMS. It presented the trends on CBD, DIY devices and biodegradable packaging, and was the protagonist of a dedicated CosmoTalks session and an on-site installation.
After a period of great concern and worry, the organizers are delighted to say that this year's edition has exceeded expectations. But the future promises to be an even more exciting adventure, as we all make up for the time lost during the pandemic.
The next appointment with the 19th edition of Cosmoprof North America is from July 12th -14th, 2022 in a new venue: the Las Vegas Convention Center (LVCC).