Conscious of the critical times we have all lived through, Artec Chemical Group has expanded its business portfolio into producing sanitising product to help hairdressers and business partners in their fight against the pandemic.
We are delighted to share some comments on the current international crisis by Wicky Wong, Managing Director of Artec Chemical Group: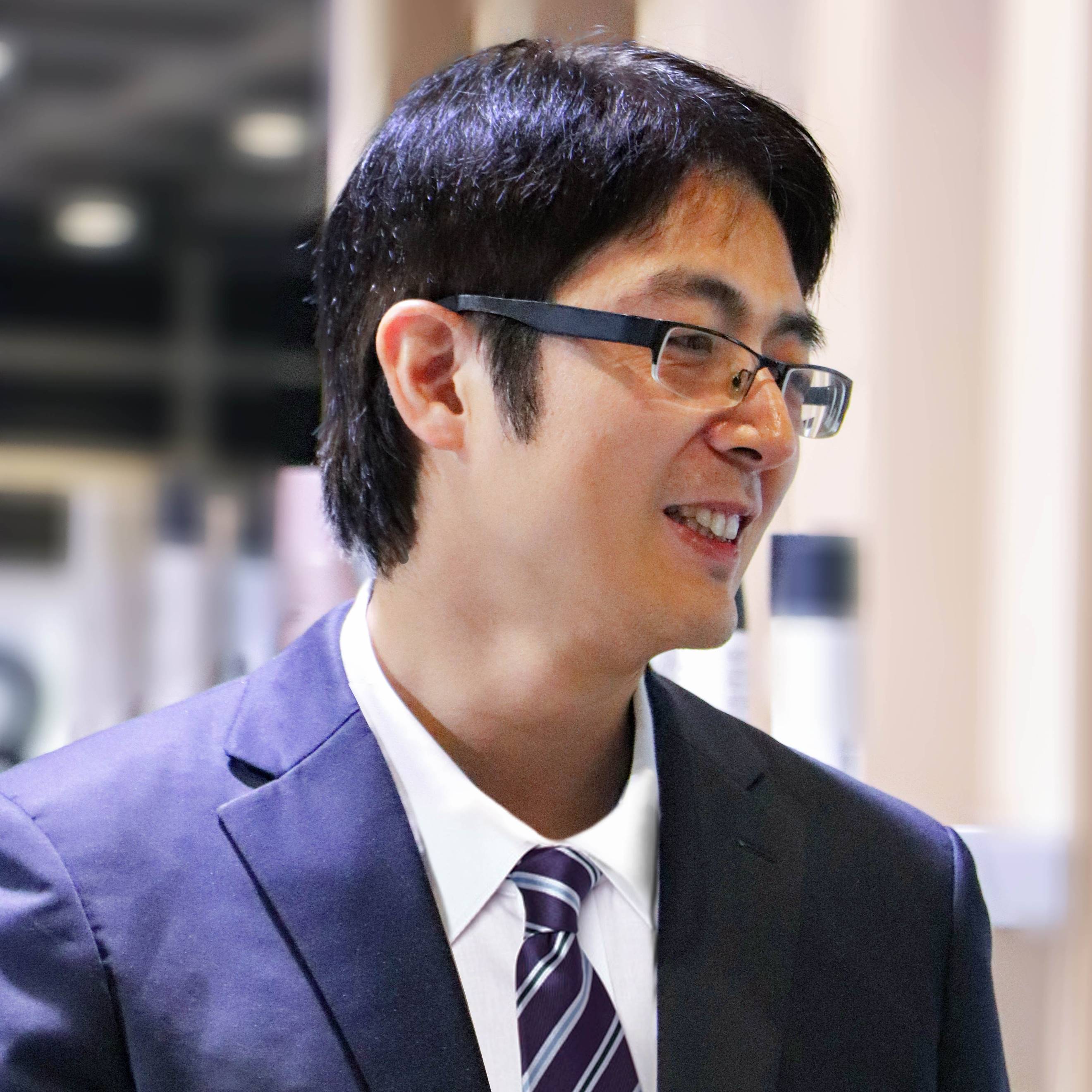 What is the situation in your country and in your export markets at this point of the COVID-19 health crisis?
"As an international city with all kinds of business opportunities, Hong Kong has always been the bridge between China and the world. The COVID-19 has deeply wounded Hong Kong's economy, especially because of its reliance on tourism and retail. The local policy to fight the pandemic was to focus on social distancing, which in itself created a negative economic impact. July's third wave of COVID- 19 recently had also made people even more worried about the future. The government has given $10,000 HKD to every citizen in the hope that it will help boost the economy, although unemployment has risen.
"Salons are not obliged to close, but the number of people going for hair services has been significantly reduced. It is likely that some salons will not survive COVID-19. This does however leave other salons feeling optimistic, as competition is reduced by the drop in salon numbers.
"As regards export business, since manufacturing sites are mostly in mainland China rather than HK, the border lockdown policy has impacted greatly on the efficiency of trade. To make things even worse, orders for most hair and beauty products has dropped off significantly, or has switched to sanitizing products."
How do you see the future development of the crisis for the cosmetics industry?
"The cosmetics industry will probably need a few changes. People will be able to use more professional products at home as they have been trained in the past few months. For example, when people could not reach the salon, hair colouring for home use was in great demand in the past months. People's knowledge about cosmetics product has grown during the long months of working from home.
"Also in this period, online purchasing has increased a lot or better the consumption switched from the bricks and mortar store to a wide selection of digital platform many of which were created to satisfy a booming demand."
Do you have any products that can be dedicated specifically to the COVID-19 period?
"To support our business partners, not only in Hong Kong but all over the world, Artec has decided to utilise its manufacturing capacity and the chemical knowhow to create a totally new brand ArtecMed which is a product range with alcohol and non-alcohol sanitizers, sanitizing wipes, gloves, surgical mask and air-purifiers. We hope to help people and more importantly our business partners to fight COVID-19 from chemical sanitising, physical hygiene improvements as well as leveraging our nanotechnology for environment sanitizing."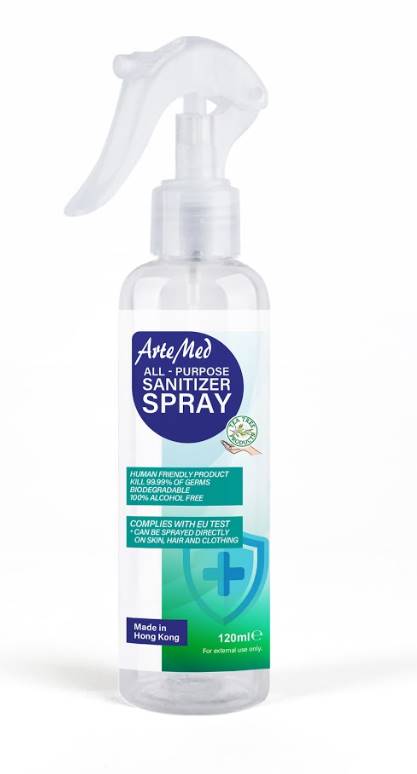 ArtecMed All-purpose Sanitizer Spray
An effective antiseptic and it is widely used in advanced medical practice. Not only it meets the EU specifications, but it is also listed by WHO as Essential Medicines, the safest and most effective medicines needed in a health system. It is recommended for adults, children and animals use. ArtecMed All-purpose Sanitizer Spray highly inhibit virus and kills 99.99% bacteria, disinfection up to 24 hours. It can be frequently sprayed on skin, hair, clothes, shoes toys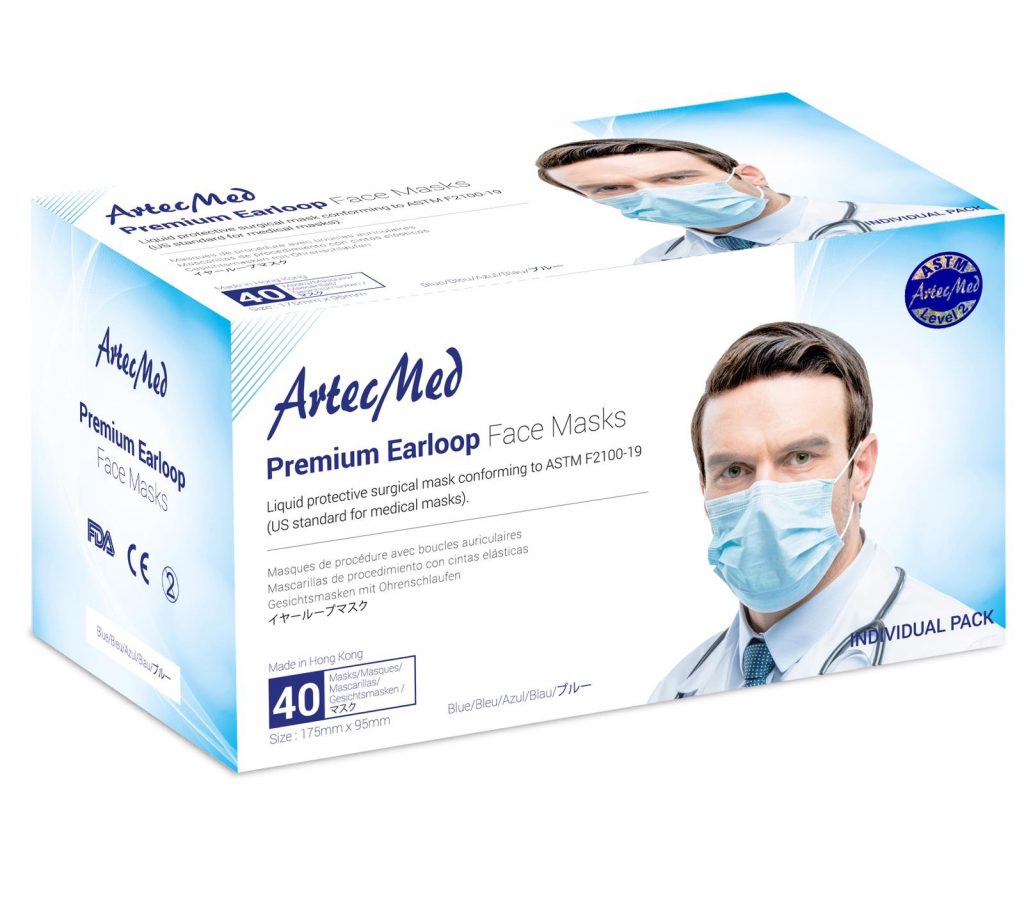 ArtecMed Surgical Mask
ASTM F2100-11 is the standard specification for performance of materials used in medical face masks by ASTM International (American Society for testing and materials). Based on the performance of filtration testing for BFE (Bacterial Filtration Efficiency, PFE (Particle Filtration Efficiency), ΔP (Breathability), Synthetic Blood Penetration Resistance and Flame Spread, the masks are classified into 3 levels. ArtecMed provides different certified ASTM level face masks to meet international standards.