Well-known and emerging brands from across the local and international hair & beauty industry were in the spotlight at the Beautyworld Middle East 2022 Awards in Dubai.
The Award ceremony of Beautyworld Middle East 2022 took place in the luxurious surroundings of the Address Skyview Hotel during the Dubai exhibition.
The awards jury selected local and international beauty products and brands across 14 categories. Out of the 150 entries received, a shortlist of 53 finalists emerged to contest at this dynamic event.
A stellar awards ceremony ended the night celebrating winners across 14 categories, which recognized outstanding performers, visionaries and achievers across the industry and the region. They also created an opportunity to network and celebrate with industry peers.
Among the award-winning categories, BWME was able to outline some cutting-edge and innovative themes and professions, such as Conscious Beauty Brand or Up-and-coming Influencer, which lately have become the centre of attention.
Among the winners was French perfumer Maurice Roucel, who received the 'Lifetime Achievement Award'. With almost 50 years' experience in creating some of the most recognisable perfumes in the world, Roucel is one of the fragrance industry's most famous names. He was selected as the winner due to his incredible impact on the regional market as well as his recognition among perfumers globally.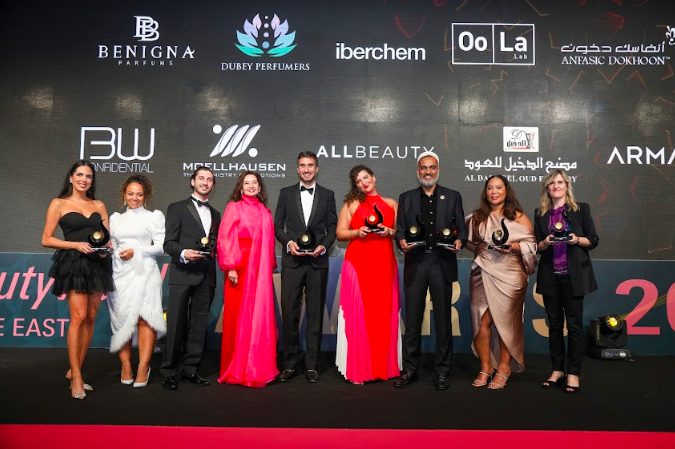 The Beautyworld Middle East 2022 Awards Winners:
Lifetime Achievement Award
WINNER
Maurice Roucel – Symrise
Breakout Star Product of the Year – Beauty
WINNER
RADIANCE ENHANCER ESSENTIAL OIL BLEND 50ML by Emulsion Cosmetics
Breakout Star Product of the Year – Fragrance
WINNER
CLUB DE NUIT SILLAGE by ARMAF
Conscious Beauty Brand of the Year
WINNER
EYECHA LASHES
Consumer Fragrance of the Year
WINNER
CLUB DE NUIT INTENSE MAN by ARMAF
Cult Classic of the Decade
WINNER
LUNA 3 by Foreo
Up-and-coming Influencer of the Year
WINNER
Nisrine Daou
Digital Marketing Campaign of the Year
WINNER
Vatika Voices Campaign by Dabur
Homegrown Brand of the Year
WINNER
Hindash Cosmetics
Innovation of the Year – Beauty Product
WINNER
DETOX CLEANSING POWDER by BEAUTÉ MEDITERRANEA
Innovation of the Year – Digital Innovation
WINNER
AIRPARFUM
Niche Fragrance of the Year
WINNER
KAYALI Déjà Vu White Flower | 57 Eau de Parfum by Kayali
Innovative Packaging of the Year
WINNER
The "Saint Germain Des Près" coffret by Cosfibel Group
Perfumer of the Year
WINNER
Dalia Izem from Givaudan