By embracing the restrictions of the times, the 25th edition of Cosmoprof Asia confirms it'll be taking place from 17th – 19th November 2021, with "Special Features": one venue, a hybrid format.
Organizers are confident that the next Cosmoprof Asia will be held from 17 to 19 November 2021. The Asia-Pacific region's B2B event for global cosmetic industry professionals is expecting around 2,000 exhibitors from international markets to attend Cosmopack and Cosmoprof Asia 2021 which, for this year only, will be held under one roof at the Hong Kong Convention & Exhibition Centre (HKCEC). Another sign of the times is the the hybrid format, with a digital platform running in parallel, so any stakeholders unable to travel to Hong Kong can make online connections between companies and professionals who are visiting in person, thus optimizing new business opportunities and enhancing their capacity for global networking.
BolognaFiere and Informa Markets, the exhibition organizers, are proud to transform the iconic fair in these way, while celebrating a quarter of a century by amalgamating 13 product sectors all in one venue, which include Cosmoprof Asia's finished products categories of Cosmetics & Toiletries, Beauty Salon, Nails, Natural & Organic, Hair and the new areas "Clean and Hygiene" and "Beauty & Retail Tech". Meanwhile, Cosmopack Asia will host suppliers from Ingredients & Lab, Contract Manufacturing, Primary & Secondary Packaging, Prestige Pack & OEM, Print & Label and Machinery & Equipment.
Capturing Asia-Pacific's beauty market has for Cosmoprof Asia long been a vital industry benchmark for stakeholders worldwide interested in developing what is the second-largest beauty market in the world after Europe, as well as being the first region to have restated trade fair after the pandemic breakdown.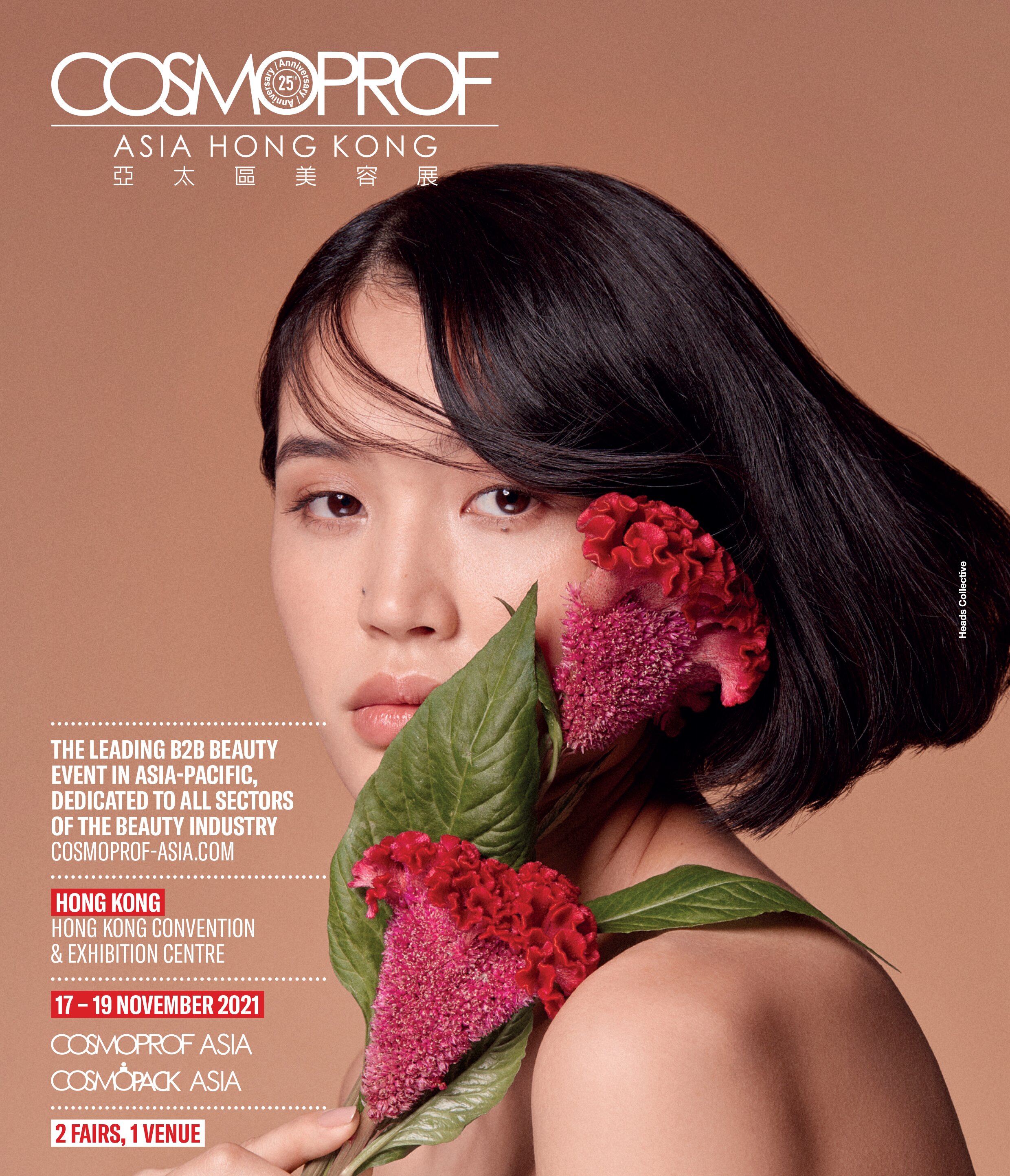 Being held in Hong Kong, the exhibition is the "gateway" for the main markets in the region, starting from China, that in 2020 become an unmatched example globally, as beauty sales increased in the first half of the year, thanks to Chinese consumers spending more domestically. China's economy is projected to grow by 8 -10% between 2019 and 2021, confirming itself as the biggest market in the world. Other countries in South-East Asia, such as Singapore, Indonesia, Vietnam, Thailand, Malaysia, and the Philippines, are also expected to offer fresh new opportunities to international players, thanks to the remarkable development of their e-commerce.
Next Autumn will there be the time when we all expect the pandemic to be in its death throes and so, it's the perfect moment Cosmoprof Asia to be there for the international community.
"We look forward to delivering an even better Cosmoprof Asia in 2021, with the hybrid format opening up the event to an unprecedented audience worldwide, thanks to the combination of digital and face-to-face visitors. We are proud to be pivoting to this exciting new format while celebrating the momentous 25th anniversary of Cosmoprof Asia," said David Bondi, Senior Vice President – Asia of Informa Markets and Director of Cosmoprof Asia Ltd. "At the same time, we are excited to share our year-round, ongoing calendar of digital opportunities designed to maximize the engagement of global buyers and suppliers. We look forward to greeting you all, online and in-person, at Cosmoprof Asia 2021."
For further information, please visit www.cosmoprof-asia.com