Following Korea's main edition in Autumn 2021, the organisers of K Beauty Expo have scheduled five shows in five different countries.
The main edition and largest beauty trade show in Korea, K Beauty Expo, boasts a significant number of participants from beauty companies which include professionals, manufacturers and distributors. 2019 was the last year that saw the event take place in person and it drew 430 exhibitors from 20 countries and over 50,000 visitors from 37 countries.
Scheduled from 7th – 9th October at Kintex, the 13th Korean edition of the show will have a special focus on B2B business opportunities, with a program of match-making specifically designed to facilitate meetings between overseas hosted buyers and Korean distribution representatives.
Exhibitors can take advantage of the marketing platform designed to promote the products during the exhibition. Also, B2C promotion will be organized so that visitors can make the most out of their experience.
In these complicated times, K-beauty Expo 2021 would like to represent a reassuring reference for the industry looking forward with hope to a market that is recovering and will get back to normal.
Thanks to its format, the Korean Fair is especially suited to small-to-medium firms, that can find the proper platform to meet and engage on a professional business level and then extend to new sales channels.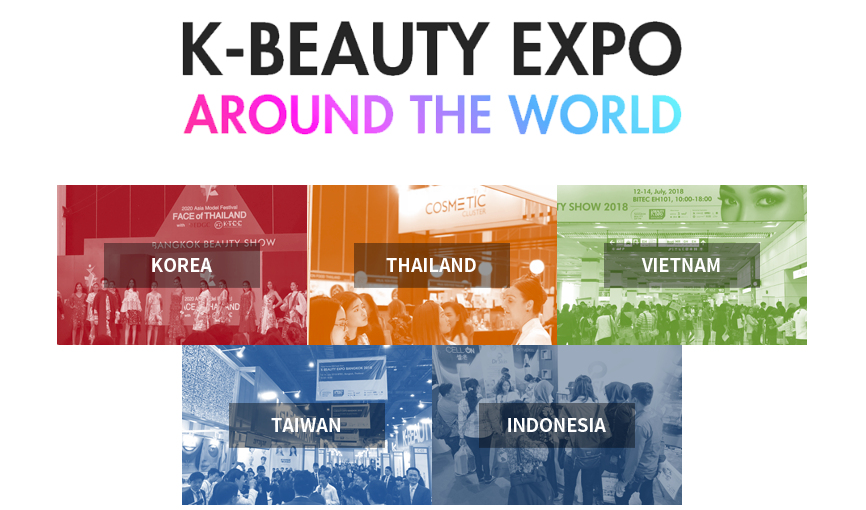 K Beauty Expo around Asia
K Beauty Expo will be held in 5 different countries in Far East Asia: Korea, Thailand, Vietnam, Taiwan and Indonesia. In the coming Autumn, all the editions are planned to catch up with postponements caused by the global pandemic. In some cases they are combined with other beauty events to make things easier for visitors and exhibitors in a period in which travelling continues to be hindered by safety rules and regulations.
Here are the subsequent dates following on from Korea:
Taiwan
14th-17th October 2021 at TWTC Taipei
Vietnam
4th-6th November 2021 at SECC Ho Chi Minh City
Indonesia
24th-26 November 2021 at Jiexpo Jakarta
Thailand
16th-18th December 2021 at Bitec Bangkok
For more details: https://www.k-beautyexpo.co.kr/fairDash.do?hl=ENG