With sixty years of history, HQ in Nice France and production in Italy, BaBylissPRO is a French brand with heritage which continues to lead global innovation in electrical accessories for professional hairdressers. EsteticaExport has interviewed Vincent Dufaux, General Manager of BaBylissPRO Division.
BaByliss has a long history and the industry recognises the brand; what should people especially know about it today?
"We used to say that BaByliss was created by hairdressers. It all started in France in the Sixties, when we created a curling iron, an innovation invented by our founder, Mr Lelievre, an hairdresser. He focused on the "job to be done". Its purpose was to ease the work pressure on hairdressers. This concept has remained in our DNA: "how can we help the hairdressers?" This has turned us into the only brand to cover all hairdressers' electrical needs.
We have two divisions: one is dedicated to retail and the other, which I am in charge of, is the Professional Division.
We also show how we can make ourselves more professional than anyone else. We do this by walking side-by-side with hairdressers. We deal with a large community of hairdressers that help us understand their needs. We like to say that we do not sell products, but tools. Our aim is to ensure that hairdressers have the proper tools to be able to work in the best possible way.
On a global scale, it is also very important for us to have a sense of each market and to understand its peculiarities. We sell in more than 60 countries and in each one we have a direct presence, either through a subsidiary or a sole distributor. Therefore, we define ourselves as an international brand that can be global and local at the same time".
Can you tell us something about your personal experience with BaByliss?
"I have already been with BaBylissPRO for 16 years. I started my career in the retail division in Russia, then moved to Poland and then to the HQ in France. Later I was in charge of the Middle Eastern markets for 6 and a half years. All this gave me the chance to experience different cultures and different ways to do business. Then I went on to join the B2B division".
How do you perceive our industry at the moment?
"The hair salon industry has been suffering in the recent past. Nevertheless, there are countries where hairdressers have become real entrepreneurs, eager to relaunch our industry and their business. Let me tell you an example of what is happening in Russia. Many younger hairdressers are not so keen about joining a salon. They want their own rented space and in some cases even develop their own product line to create even more personalisation to their brand image. Also in Europe, things are dramatically changing, especially thanks to a new generation of hairdressers who are looking for bigger and better training and educational opportunities to help them express their creativity. This is a big change, so we think it is important to support these hairdressers to promote both their knowledge and their work. We want to go back to understanding hairdressers' everyday life, what they need and what exactly they are looking for.
We are witnessing a new, strong generation of hairdressers rising out of countries such as Poland, Russia, Ukraine and Norway. These are young professionals who know what they want; they demand tools that are not only reliable, but extremely effective. These tools must also feature specific designs that can become part of their identity – something that stands out will help make the hairdresser stand out, too".
How did you face up to the pandemic?
" First of all, let me thanks my great team. They made the most of this hard situation. A team of dedicated professionals that showed agility and flexibility to help us navigate into such a turmoil, making sure to serve and support all professionals as much as possible.
Also, we have been lucky because, just before the outburst of Covid, we had launched a new grooming line for barbering salons – this happened at the right time and with the right products. We offered exactly what barbers were looking for and so we managed to capture the attention of clients and market forces in general. Thanks to the success of these products, we could cope with the effect of the pandemic. So 2020 closed at the same level as 2019 while this year, 2021, we're recording a significant increase".
Has your relationship with online technology improved during the lockdowns?
"Yes. Of course, we had to learn to use online platforms to communicate with our salesforce and our clients, especially regarding education. This is something that will continue into the future: we will provide hybrid education that will alternate face-to-face and online sessions. We adapt to our customers needs."
Were you ready for the return of the Beauty Fairs taking place in person?
"Of course – we are looking forward to our next appointment. We are exhibiting in BS Lyon in November and of course, we are waiting for the big one in Bologna next March".
Have you had any experience of online fairs? What do you think of them?
"I think exhibitions need to find a way to become hybrid in the future. The online opportunity is important for sales, education and for making new contacts, but we cannot do without face-to-face events".
What projects do you have coming up in the near future?
"We are going to present a new approach to the market: a new way to explain to our clients what we can do for them. We used to say that we sell reliable, long-lasting tools, but we should move more towards selling services. We said we aim to help hairdressers to promote themselves and to do so we need to offer more solutions to share more added value for our hairdressers and our community. Soon to come.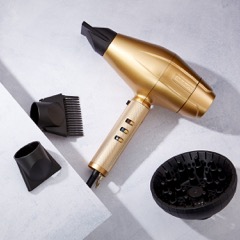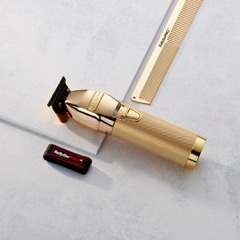 Dedicated exclusively to professionals, BaBylissPRO offers high-tech, high-performance and long-lasting products designed to meet the needs of hairstylists.
Some highlights of BaBylissPRO history
1959
Creation of the 1st electrical curling iron
1995
BaByliss joins the leading American Group CONAIR Corp.
2009
Acquisition of Coif'In, historical manufacturer of dryers in Italy; now BaBylissPRO R&D and production centre
2010
Started the collaboration with Ferrari putting together two of the world's most visionary and successful companies.
2015
Launch of the lightest high-performance professional hairdryer in the world. The RAPIDO, 399g only. FERRARI designed a DIGITAL engine.
2019
Launch of the BaBylissPRO4Artists range​. High-end products and strong visual identity​ « Digital » concept: DIGITAL motors – DIGITAL displays​