International hair care manufacturers compete in a huge market in which new brands and new products are launched every day. It's a tough world where in order to maintain a competitive edge, producers have to invest in R&D and state-of-the-art ingredients and formulations.
Gidon Cosmetics is committed to offering great products and services to all its clients. Here is an example of how they deal with a very common problem such as split hair (or split ends), offering effective and simple solutions.
Maya Cohen Ben Shlush the Marketing Manager of G.cosmetics talks us through their solution:
"Split hair is a condition where the hair splits along the shaft. Also commonly known as 'split ends' there several factors that may be the cause.
The structure of the hair
The hair may be thin or very fine, which makes the splitting process easier to occur. It can be caused by a genetic factor when the hair consists of interweaving thin fibres, or it can happen as the result of harsh chemicals or physical treatment like colours or brushing.
Dehydration of the hair fibre
Dry and dehydrated hair may split easily. The evaporation of moisture from the hair may occur due to the use of dryers, and hair straighteners, especially when used without a product that protects the hair from heat actions. In addition, there are the damages of the weather, such as dryness and metals contained in the bathing water, using products that are not suitable to your hair type, or whose quality is not good enough to preserve hair health.
Acidity levels
Split hair can also be facilitated when the acidity of the hair decreases and does not balance naturally. This can happen especially after regular bathing in a pool or seawater. Also, when using chemical products and when people do not take care of their hair with corrective actions that balance the acidity level.
That is why it is important to use products that balance the level of acidity after using chemical substances or devices that heat the hair".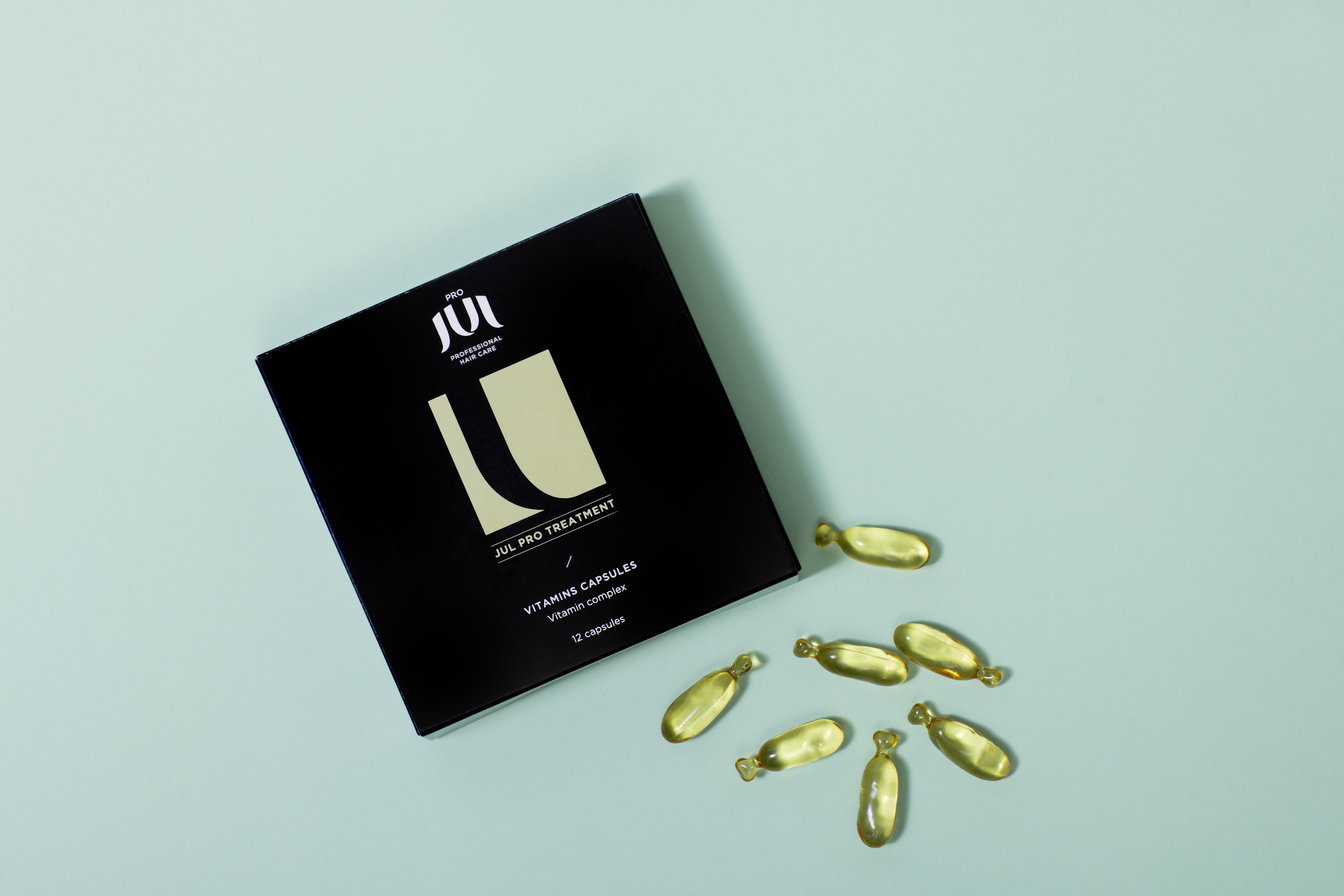 SOME TIPS TO AVOID SPLIT HAIR PROBLEM
Before using a straightener, curler or hair dryer, apply a heat-protective product.
After each use of chemical substances in the salon – use a product that balances the level of acidity such as Olaplex, like any restoration and balance lotion it closes the hair scales and thereby prevents the loss of vitamins and moisture from the hair structure.
It is important to use products adapted to your hair type every day. Oily hair, dry hair, normal hair, blonde hair, highlighted hair, each type needs its specific treatment.
G.COSMETICS proposes a number of products that help to maintain and protect the hair.
JUL Vitamin capsules for nourishment and restoration of dry and damaged hair. The capsules nurture the hair, strengthen it and give it moisture, softness and shine. The capsules help prevent split ends, improve the texture of the hair and deepen the colour shade of the hair. It is easily absorbed and does not leave a greasy feeling. It contains a complex of vitamins F+A to balance scalp cells, vitamins E+C to prevent oxidation and sun damage and B vitamins for intense moisture. After the treatment, the hair remains soft, smooth and pleasant to the touch.