The most famous event for the professional beauty in France, scheduled to take place from September 12th to 14th 2020 will now be "digital-only" with the organisers already preparing an alternative online event from September 13th to 17th instead.
After long and careful consideration, e MCB could not find a way to keep the show on the road this year. "We listened to our customers and partners and considered all the conditions to be met on the basis of the options to be retained," explains Christophe Gabreau, President of Standing Events. "In spite of the positive developments in the health situation, the lack of clarification on how to hold the major events in September, the uncertainties on the travel of our exhibitors and international visitors, and the very high concentration of participants present at the show, lead us to be fully aware that we cannot maintain the 2020 edition."
"For years, the MCB by BS has been THE appointment of the entire profession, a moment rich in exchanges that highlights to the public and the highest authorities the dynamism of the French hairdressing," added Christophe Doré, President of the UNEC. "Because of the crisis we are going through, all the conditions were unfortunately not met to perpetuate the tradition. So, I'll see you in 2021 for an even stronger and more innovative MCB by BS."
The entire organisational team deeply regrets this outcome; however, everyone is already looking forward to seeing Exhibitors and visitors at the 2021 edition of the MCB by BS which will take place on 11, 12 and 13 September 2021.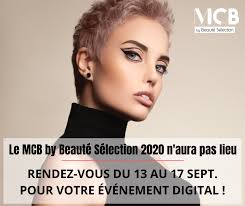 MCB by BS Online
In order to keep their promise of an annual event, the organisers have confirmed that they are launching a digital platform to facilitate connections and maintain the possibility to engage with both new and existing product and service contacts.
As well as maintaining contact with industry experts and suppliers, participants will also be able to take part in digital conferencing and online training. Access will be free-of-charge upon registration.
https://www.mcbbybeauteselection.com/en/home/