Focused on providing services to hair salons, Poker Srl has been thriving in the Italian distribution market by offering a wide range of international brands. Throughout the pandemic, they have sustained sales, while offering special services and support.
Founded in 1978 in Modena by Giuseppe De Col and Roberta Rossi, Poker Srl is now run by the next generation.
Estetica Export had an inspiring talk with Gianluca De Col who runs the company, together with his brother, Andrea.
How would you introduce your company?
"Our business is always been focused on hair salons: we want to be the partner of each one to help them grow their business.
We work with different brands, some are our own brands, but we also have quite a few imported brands that we sell as sole distributor in Italy.
We are organized with a network of about 60 salespeople who regularly visit salons. Our goal is to offer a capillary service through consultants and local training centres which we have opened in many areas.
Mostly, we are present in the northwest and the centre of Italy. We have 15 centres (6 with education facilities) that are fully operational; others will be launched soon to also cover areas in the central part of the country. Our centres represent an important contact point for the hairdresser, who can find support, education and also the chance to buy directly. Salesforce orders are all run centrally in Modena, but in each centre, salons can buy direct.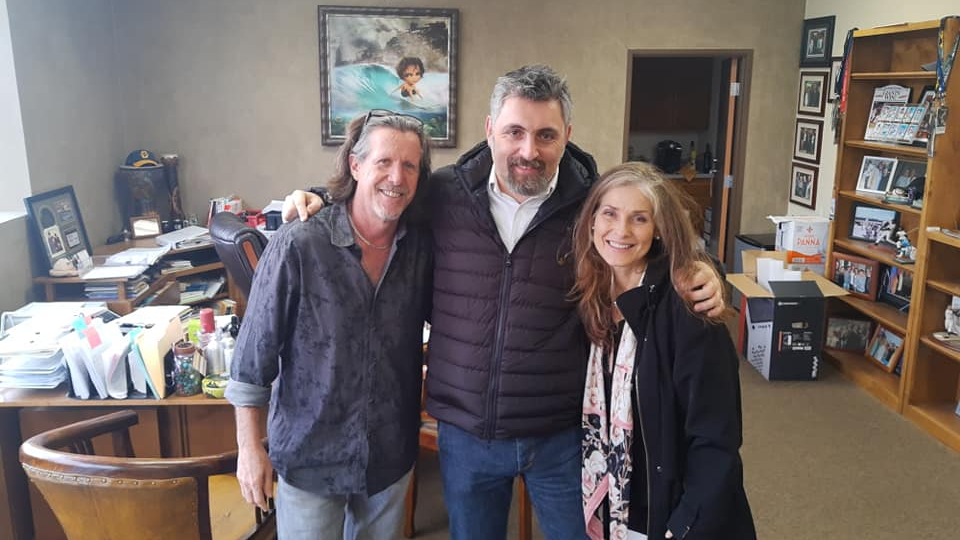 What are the main brands you deal with?
"As Italian manufacturers do not want to have only one distributor for the national territory, so we import brands from other countries to have exclusivity. The Italian brands we distribute are only our own.
Thanks to the cooperation with the Kirshner Group we started importing in 2011 – an American brand called Bosley, specializing in hair and scalp treatments; these products were embraced successfully by a niche market.
Six months later we started working with another American company, Heartly Body, first importing the brand Marrakesh, which became very popular in a short time. Since its beginning, Heartly Body has been a very "green" company: their commitment is now to eliminating plastic containers and using vegan ingredients. Another advantage is their commercial dynamic, prices can be kept under control even for online sales, which is paramount for the relationship with Italian hair salons. Marrakesh is positioned as a medium target brand that has been selling into a wide range of salons for a number of years now
Two years ago, we started also importing Emera, another brand from the same Californian company, but with a higher profile. Emera's products are the first professional products to be based on Cannabidiol and perform magnificently on the scalp and hair.
Emera is only supplied to hair salons that have at least four staff and want to have exclusivity in their area".
How did you face up to the pandemic? What initiatives did you put in place?
"The pandemic has certainly forced us to change our point of view and to adapt the traditional way with which we used to run our company. It is true we had some time to rethink our routine, but also we had to react quickly to interpret the evolution of the market. During lockdown, we were the first in Italy to put in place a very successful program to deliver a colour kit directly to the consumer at home. We delivered several thousand kits all over Italy, not for profit, but to provide an essential service and maintain communication with customers. DIY home colour could easily become a threat to salon businesses, unless the salons are able to keep suggesting and supporting their customers. Therefore we only offered a high-quality product service to the end-client – out colour kit could not be bought cheaply in a supermarket or online, because it represents a special service that only hairdressers can offer. I have to say that the hairdressers who took part in the programme enjoyed some very good results."
What is your balance sheet for 2020 looking like?
"We worked hard and we have been lucky. We closed 2020 with a small loss of -6%, which is pretty good considering the general situation. The loss was caused mostly by the education services which we could not hold due to the restrictions. Products sales, especially our own brands, did not drop and our special initiatives, including sales of antiviral products, helped keep the sales afloat.
We also kept investing in new product lines and in recruiting more sales agents. We were able to extend our network also in Lazio, Abruzzo and Campania".
How do you feel about the future?
"We have hope in the future and that is why we keep working and investing. We are starting our now e-commerce with a new concept focusing on a tight connection between our online presence with all the local centres around Italy, which is the only way to offer a proper service to salons and compete with big marketplaces that only sell at a low prices".
Did you take part in any Online fair or event?
"We once tried WeCosmoprof but, to be frank, we did not get many useful contacts. However, that is also because our company is dedicated mostly to the Italian Market. We have started some exportation of our own brands to a few European countries but it is still a work in progress, we will return to this topic when we are more prepared".
Heartly Body
A Californian company with a vintage vibe and a great commitment to well-being. Earthly Body co-founders and philanthropists Kevin and Mare Wachs started the non-profit Get Together Foundation (GTF) in 2004 as a means of giving back to the community and sharing their good fortune with those in need.
Other successful brand imported by Poker
HH Simonsen from Sweden, Specialised in Electrical Supplies for Hair Salons, offering a high quality and support education for hairstylists
Matsuzaki A Japanese producer of Professional Scissors for hair stylists.
Professional Beauty System from Scotland is selling well especially two brands: the direct dyes from Crazy Color, and the styling products with British taste from Osmo.