While cosmetics sales are rapidly increasing across every continent, Spanish exports are continuing the upward trend by reporting a return to pre-pandemic levels.
According to a survey published by Stanpa, Spanish exports of perfumes and cosmetics are expected to reach €4.5 Billion in 2021. The data comes from the major cosmetics manufacturers and distributors across the country, confirming a strong increase in exports in all cosmetics categories during the first half of 2021. Colour cosmetics and perfumes, which had been the most affected by the crisis, are registering the highest growth rates, of 49% and 40% respectively.
In total, the sector's exports exceeded the threshold of €2,250 Million euros during the first six months of 2021, growing by 21% compared to 2020. Projecting the first-semester data, experts are confident that exports from Spain will reach €4,500 Million by the end of the year, equivalent to pre-pandemic levels.
Spain is not the only country to score a significant increase in this sector. The trend is positive across all regions, with particularly high numbers in some countries outside The European Union, including South Korea (80%), The United States (60%), Mexico and Russia (54%). Chile (58%) and Morocco (14%) .
Inside The European Union, which has always been the main market for Spanish exports, an increase is registered in all countries, including the most important for Spanish cosmetics such as France, Italy, The Netherlands, Poland and Germany.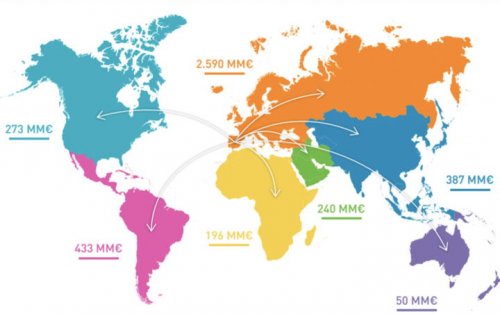 In The Middle East, exports to The United Arab Emirates, which ranks in the top ten markets for Spanish sales of perfumes and cosmetics, increased by 39% during the first half of 2021.
Exports to China from Spain, which saw a sharp growth during the previous year (41%), remained stable during the first half of 2021, at €170 Million.