At the recent Beautyistanbul fair, we spent some time with Erkan Güzel, Editor-in-Chief of Estetica Turkey as well as an entrepreneur with great experience in the Turkish market. Here, he gives us his insight into this fast-evolving country.
How did you start working with Estetica?
"That happened in 2004, when I met Roberto Pissimiglia who offered me the chance to open the Turkish edition of Estetica. That means next year will be the 20th anniversary of our collaboration and I am very excited to reach this goal, because with Estetica I had the chance to enter the professional hair sector, which went on to become the focus of what I do professionally".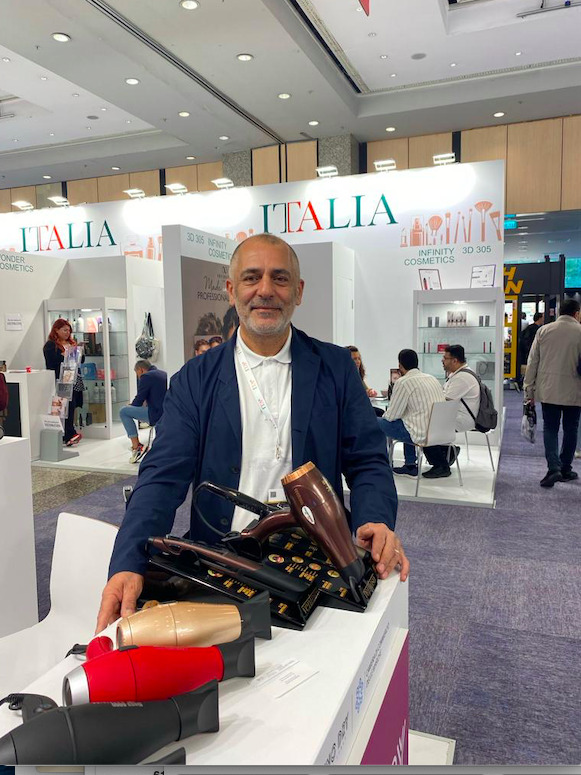 Do you run any other businesses?
"I have also started my own company and created my brand of hairdryers called Ventoso, which is registered in 15 countries around the world, mainly in Europe. It is a premium brand that we sell in luxury salons in Turkey. The price is higher than average, because it is produced with Italian technology provided by our partner Tecno Dry. We have Italian design and technology combined with Turkish craftsmanship".
And the name is Italian…
"Yes that's right. It was an idea of my wife who is Italian and proposed this name (it means 'windy'). I believe is suitable for the product and has been well-received by clients".
How do you retail it?
"60% of our sales are made online to end-consumers, while the rest are sold to professional salons, some of which retail them on to their clients".
You mentioned another enterprise called Bonobella, what is it?
"During the Covid pandemic, I founded a business unit that sells beauty products to final consumers through e-Commerce called Bonobella. The peculiar thing is that the shareholders are 70 of the best hairdressers in Turkey. It was a way to increase sales in times of pandemic and since then it has kept going pretty well".
What can you tell us about the recent evolution of the Turkish Market with a focus on our industry?
"The market has been changing a lot after Covid and most of the global brands have been focusing on online business in both B2B and B2C. Local brands are growing rapidly as they do provide better prices while the economy continues to struggle due to high inflation.
Besides global brands such as L'Oréal, Davines, Henkel and Wella, there are local ones such as Lila Cosmetics, Bewon and Botego in the low-price band and Hush in the medium band. However, there is still an important share of the market dedicated to high-end services.
Social media, especially Instagram and TikTok, are also very important channels for hairdressers wanting to attract new customers".
Which are the most commercially viable activities in Turkey?
"There is still great big potential for haircare products, provided that they are innovative and at an affordable price point. They also need to be supported by influencers with the right marketing activities.
Local production for private labels is increasing a lot as it more cost-effective, not only for the Turkish market but also for export to both the Middle East and Europe.
Logistic infrastructure in Turkey is well-developed, which makes it attractive for brands to be present in the market".
Which products might be more popular in the future?
"Global trends are closely followed by brands and consumers. Therefore, vegan, cruelty-free and eco-friendly products are going to gain a big share of the market. 'Made in Italy' products are always welcomed in the Turkish market, providing they have the right positioning and marketing activity".