6 suggestions to re-organise your salon while you still have the opportunity. Global attention is currently switching from pandemic panic to a serious question: "When will it be possible to re-open our businesses?" Given the hands-on nature of the work, the question becomes even more tricky when applied to hair and beauty salons.
——-
It seems pretty sure that the re-opening will come gradually, starting with those activities which are most needed and where the health and safety of the workforce can be assured. We all know that in every Beauty Salon that "human contact" is all part of the game and it's not easy to avoid it completely. Therefore, it will take a high-level of attention and preparation to adapt to a new situation, respect the rules and satisfy clients.
Different countries are starting to announce their strategies start loosening the lockdown. But no matter if salons in your country have been closed for a long time or have stayed open, the next phase of the pandemic recovery will bring new rules and new habits; we can presume that these will apply for quite a long time.
Here are some issues to be considered by Beauty Salon owners and workers, when it comes to re-organising their routine: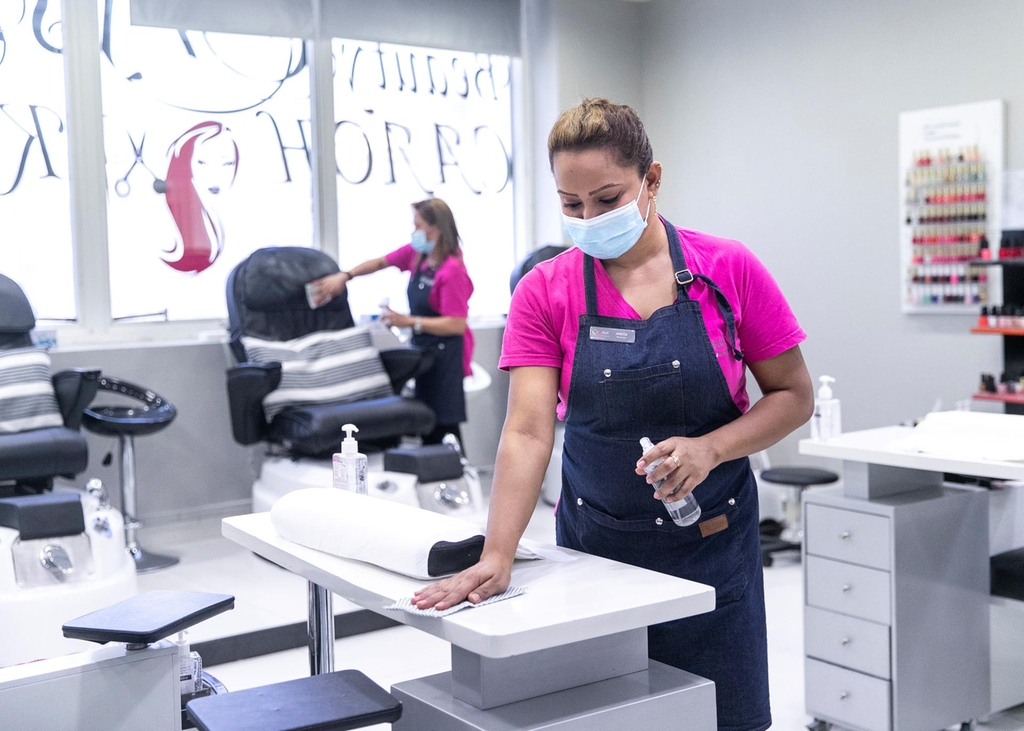 One-by-One Appointments
Most governments will impose number limits according to the dimensions of each salon – these could even mean one client at a time. This implies a cut in the number of people that can be accommodated per day and, of course, that means less revenue. On the other hand, work can be organised better, quality of service enhanced, attention to the single client maximised…. maybe it will even be possible to charge a little more.
Sanitising and security distancing
Proper sanitising procedures and use of correct equipment to guarantee a safe client service will have to be carefully prepared and implemented to fulfil both the legal requirements and to adhere to what the general public will expect. That also means extra costs and the need to learn new techniques. However, clients will become aware of these procedures, of the equipment adopted and of the deep care the salon is implementing. It will be a great message of professionalism and respect for the safety – something that every customer is bound to appreciate.
Supplies for Opening and First Months
Many are not aware that some of the products Salons need will not be very easy to find, and delivery times could prove much longer.
Obviously, when you can, plan your orders with longer lead times – and remember you'll not only need the usual hair and beauty products, but sanitisers and protection gear as well.
Extra Staff Training
Some staff will come back to work after a few weeks of "enforced" rest. Furthermore, they will have to face a new salon routine. Make sure you recall them early enough (possibly before the salon re-opening) to discuss the new situation and allow them to train and get used to it.
Reach Out to your Clients
Remember your clients. If you're not opening soon, send them a message to show you are close to them in this period. As soon as you can schedule a re-opening, inform all your clients using e-mail and social media networks. Also, explain what will change in your salon and underline the care you will provide to ensure their safety and good service.
Financial Critical Edge
Unfortunately, all these "new" duties and routines are going to cost you money. As we well now, most salons haven't had any income for months, so it will not be easy to take care of extra costs. On the bright side, we can say that many governments are implementing on-going financial interim support for companies after the crisis wains. Make sure you ask your accountant or Government office to explore any possible way to take advantage of these financial opportunities, start doing it now, so to get the help when you need it. If you have any scope to invest some extra money, you'd better do it. Salons that aren't ready in time might not even survive the hard times that are coming.