While Japan re-organises its hair industry standards, many companies are now taking the initiative and teaming up with salon to help them overcome the crisis. One such company is salon furniture and equipment manufacturer, Takara Belmont, known globally for advanced innovation, timeless design, the application of leading-edge technology and unrivalled equipment performance.
As we enter the recovery phase of the COVID-19 crisis, Chairman and C.E.O. of Takara Belmont, Mr. Hidetaka Yoshikawa has provided esteticaexport.com with his words of wisdom on a situation that over the past few months has so deeply touched everyone involved in the hair and beauty industry.
Here is Mr. Yoshikawa's special message:
"First of all, we would like to extend our deepest sympathies to all of the hair salons affected by the spread of the new Coronavirus. This corona vortex has brought about a very severe situation not only for infected people but also for everyone working in salons. Our company will celebrate its 100th anniversary next year. There have been many hardships such as wars, depressions, and earthquakes during the last 100 years, but I have always been encouraged by the strength of everyone who works in the salon, and I could overcome those hardships. Our founder has always said that "Hair grows. It is a profession needed by people." Even at the time we have experienced two major earthquakes in Japan in recent years, people in the beauty salon stood up from the disasters quickly, boiled hot water for their customers, searched for scissors under the earth and sand or fallen furniture, cut the customers' hair even under the blue sky and smiled at customers. It is beyond just "cutting hair." We must protect the profession of hair stylists that can bring smiles to people. In Japan, we are currently providing the latest management and technology information useful to salons through the web and social medias and so on, and in the future, we will continue to support the beauty salon with various methods. We need more strategies to deal with viruses in the future, rather than returning to our previous lives. Above all, we will concentrate our wisdom on ways to make the salon more exciting for our customers. Let's overcome this difficulty together.
Hidetaka Yoshikawa, Chairman and C.E.O., Takara Belmont Corporation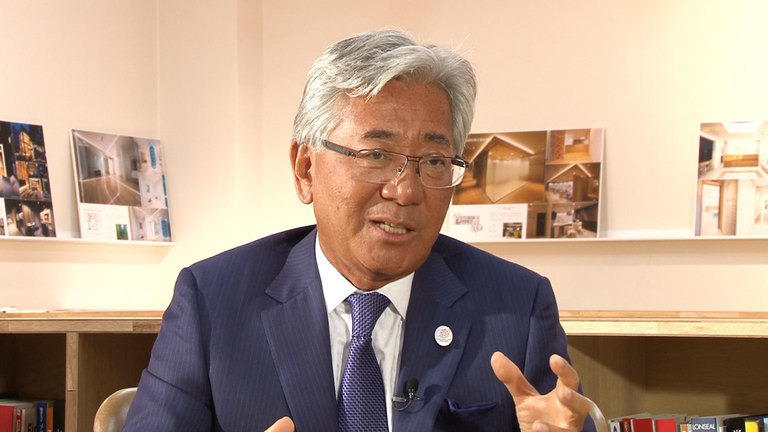 What is the situation in your country and in your export markets at this point in the COVID-19 health crisis?
In a decree on May 8th announced by Ministry of Internal Affairs and Communications has been a significant reduction in revenues in the hair and barbering industry, dropping by two digits compared to the same month last year. As a result, in the first quarter of 2020 (January-March), hair and beauty-related spending declined year-on-year. The declaration of a state of emergency was cancelled nationwide on May 25th and the Japan Hygiene Business Guidance Centre announced "The basis for preventing the spread of new Coronavirus infectious diseases" For lifestyle industries such as barbers and beauty salons, this means:
・ Enforced diligent hand washing before and after work, before and after treatment (customer service), and before and after cleaning.
・ Allow customers who visit the store to disinfect their hands as much as possible.
・ Disinfect frequently touched areas
・ Check the daily health condition of staff
・ Improve the "3 denseness" of stores and prevent clusters from occurring
・ Action when a person who is positive for a new Coronavirus infection is found
As regards Export, since domestically procured materials and parts are mainly used for manufacturing, there is no major delay in delivery so far, but lockdown measures and salon suspension orders have been issued in the countries of sales in Europe, the United States and Southeast Asia. The impact is severe and export volumes have fallen sharply. Although the situation has continued to be difficult over the long term, the economy has resumed in some countries and the situation is gradually recovering little by little. In China, Taiwan, Vietnam, etc., sales activities have already started and there are signs that they are gradually becoming active while paying attention to the spread of infection.
How do you see the future development of the crisis for the hair and beauty industry?
We are resuming showroom operations his month (June 2020), having already taken measures to prevent infection. In addition, in Japan, we are sponsoring a crowdfunding from our desire to support hair salons which are in a difficult business environment. This is a program that enables advance payment support to hair salons. It is a system that allows customers to select the salon they want to support, pay it in advance, then support amount from the sponsoring company is added according to the support amount.
Do you have any product specifically dedicated to the needs after the COVID-19 crisis?
Lebel provides information by releasing e-learning videos for free in Japan. In addition, we introduce Aqua Forte (automatic shampoo robot) and Care Dry (hair drying machine: available in Japan) which can reduce contact frequency between staff and customers. We hope that the one-stop concept that allows customers to receive several services such as hair-cut, shampooing, colouring/perming, hand care etc. in a private / semi-private space will help secure a social distance within the salon. This is a service unique to Yume Oasis, our unique movable wash unit.