Two new halls have been added this year to make room for the growing number of exhibitors at the most international hair and beauty fair.
The last issued numbers are increasing the interest of the global industry about the soon-to-come 4th edition of Beautyistanbul, which will be held from September 27th–29th at Istanbul Congress Center & Lutfi Kirdar & Hilton Istanbul Bosphorus Taksim – Istanbul – Turkey
Featuring 850 exhibitors from 60 countries in 7 Halls, Beautyistanbul is among the Top 5 biggest cosmetics exhibitions worldwide and it is considered the most international hair and beauty event because it can attract trade visitors from 157 countries.
To take full advantage of the fair's features, do not forget to download the new Beautyistanbul app (click here) that can enhance your visiting experience by offering the chance to connect with 32.000+ visitors from 190 countries and with 800 exhibitors from 60 countries and check out 6000+ products.

The Online Platform offers efficient and profitable connections to be in touch with suppliers and selected buyers before and after the exhibition, to maximize the exhibition outcome.
The App enables visitors to connect and interact through messages and online meetings starting from the moment you start using your Beautyistanbul App. Furthermore, a badge scanning feature allows participants to capture leads at the exhibition and follow up through their profile on the online platform.
To understand better the spirit and the commitment of the people who are working for BeautyIstambul, we'd like to re-propose some words of Mehmet Yavuz ER, Project Manager of BeautyIstanbul, from a recent interview with Estetica Export.
"The main goal of a B2B trade show is to connect sellers and buyers and the value proposition is bringing buyers along to meet exhibitors. Our strength lies within our year-long visitor marketing promotions and our global reach. We communicate and invite buyers in many languages, including Turkish, English, French, Arabic, Russian, Spanish, Portuguese, Farsi, Kazakh, Uzbek, Ukrainian, Urdu and more. We attend more than 100 events annually in all parts of the world, from Peru to Japan, Palestine to South Africa, Russia to France etc., to promote the BeautyIstanbul Exhibition in person and connect visitors and exhibitors. We are also using many methods for marketing campaigns, such as direct calls, email, text, WhatsApp, LinkedIn, Google and more to reach all critical players in the industry".
About the future development of the fair, he added:
"The cosmetics and beauty industry is growing and the demand for BeautyIstanbul is increasing every year. We aim to maintain steady growth and stay among the most important exhibitions worldwide. Therefore, we project that the show will grow every year, step by step while maintaining the quality and diversity of exhibitors and visitors alike".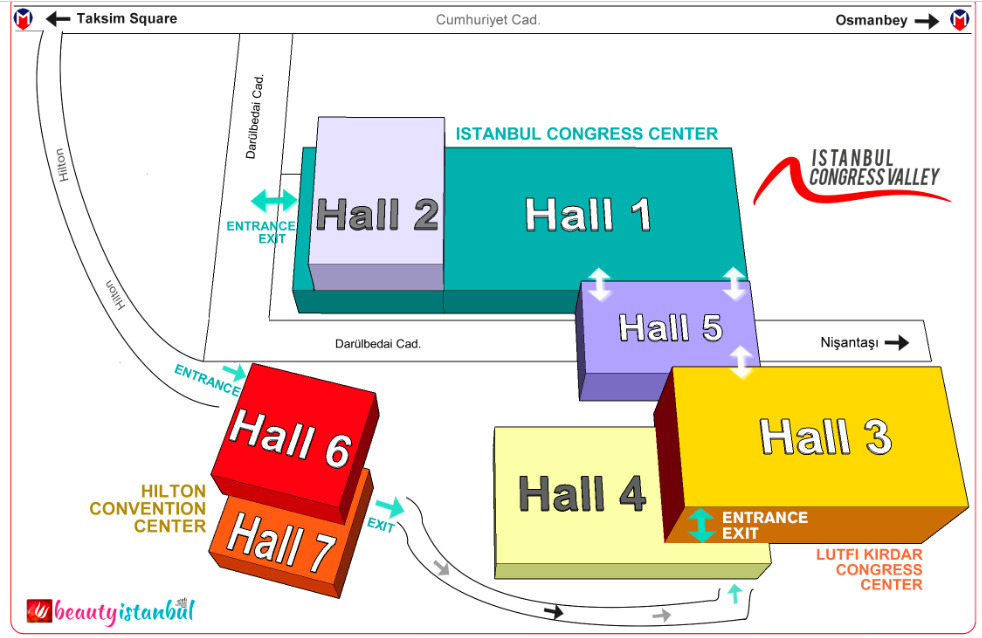 The new enlarged Exhibition Plan of Beautyistanbul located at Istanbul Congress Center, Lutfi Kirdar and Hilton Istanbul Bosphorus in the Istanbul Congress Valley in Taksim-Nişantaşı district, the most elegant and central destination in Istanbul.
Click here to discover the Google Maps Location