WeCOSMOPROF International will take off next week, from June 7th – 18th 2021, with a rich menu of events to capture the interest of participants from all corners of the world.
Everything is ready for WeCOSMOPROF International – the first global online event that will bring together all the main 5 Cosmoprof Editions from around the world.
Lasting for 10 days from June 7th – 18th 2021, it will see all 5 Cosmoprof world events making a joint contribution in terms of exhibitors and visitors, creating synergy across its platforms. WeCosmoprof International will incorporate Cosmoprof Worldwide Bologna, Cosmoprof Asia, Cosmoprof North America, Cosmoprof India and Cosmoprof CBE Asean, making it the largest online Beauty event ever organised.
Some Features and Statistics :
– 500+ local and international suppliers with over 2,000 brands represented and showcasing 10,000 products;
– 13 International Pavilions: Brazil, China, Korea, France, Greece, Hungary, Ireland, Italy, Lithuania, Poland, Spain, Switzerland and UK;
– Cosmoprof My Match: a matchmaking platform offering an online showroom, live chatting and video meeting – all to facilitate new networking opportunities.
Besides the exhibition area and networking, WeCOSMOPROF International offers a rich event menu:
15 sessions of CosmoTalks – The Virtual Series will bring together experts, trend analysts, and avant-garde entrepreneurs for a complete overview of the cosmetics industry 5.0.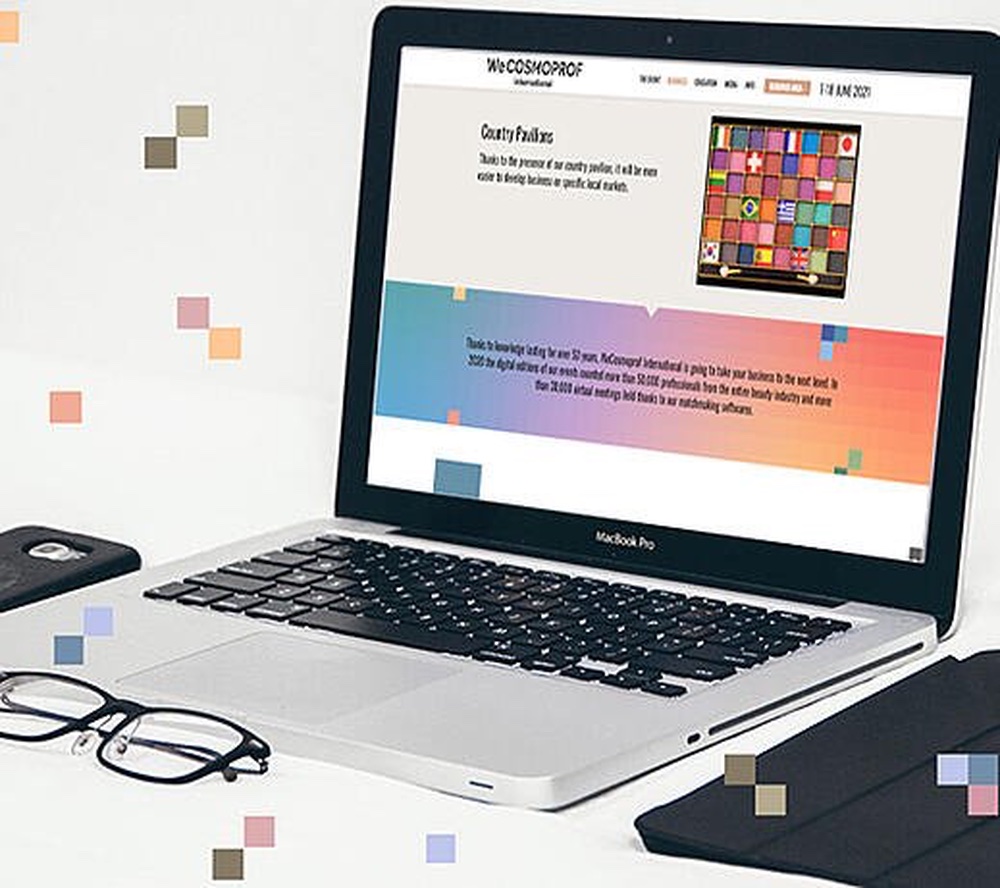 Monday, June 7
REINVENTING RETAIL: THE TRANSFORMATION TO AN ONLINE SPACE
Looking at which products will be in demand and how can you make sure your brand is reacting at best to new trends, e-Commerce rules and consumers' shopping habits.
Tuesday, June 8
PHYGITAL: NEW CONSUMERS EXPERIENCES IN BEAUTY
Discovering the post-Covid consumer shopping experience, between physical stores and online services. How to use the data provided by the new technologies to adapt your product to the new market needs.
Wednesday, June 9
CONTACTLESS BEAUTY
The beauty industry had already begun its digital transformation, but the pandemic forced an acceleration. Looking at four innovative ways that contactless experiences are fuelling industry growth.
Thursday, June 10
EMPOWERMENT THROUGH INCLUSIVITY
Inclusivity has been a beauty industry buzzword for several years now, and it has turned into an all-encompassing conversation about human rights, equity, and justice. How are consumers and brands reacting to this debate?
Friday, June 11
THE STATE OF BEAUTY 2021
Fashion and Beauty have always been sectors that have many aspects in common. Discover 10 themes that will define the global fashion, luxury, and beauty industries in 2021.