EsteticaExport has interviewed Paolo Rezzara President of Kirschner Group: "the only worldwide beauty representative able to take brands globally across every channel".
This season of beauty Fairs is restarting after an 18 month intermission, with the first one in the USA being Cosmoprof North America in Las Vegas. How has it been for you?
"Finally, showtime is back! And there was no better way to restart than with COSMOPROF North America. The Kirschner Group attended this major event in full force; with 25 domestic representatives and 8 from international territories".
How was it different from previous editions? What kind of exhibitors and visitors took part?
"This definitely was a different show because we are still affected by COVID-related travel limitations and general concerns. The show was probably 30-40% smaller than it usually is and many of the bigger brands were missing from the show floor. Nevertheless, it gave smaller brands the opportunity to shine through, as the bigger competition was missing.
In terms of audience, we noticed a definite decrease in the number of distributors, but the quality of those attending made the difference, as they all came to the show with a serious interest in investing in new brands.
The big missing component was the large US retail corporations.
Internationally speaking, Latin America was the biggest presence the show, as Europe still has a travel ban to the US, most of Asia is still in lockdown and Canada still has restrictions on travel".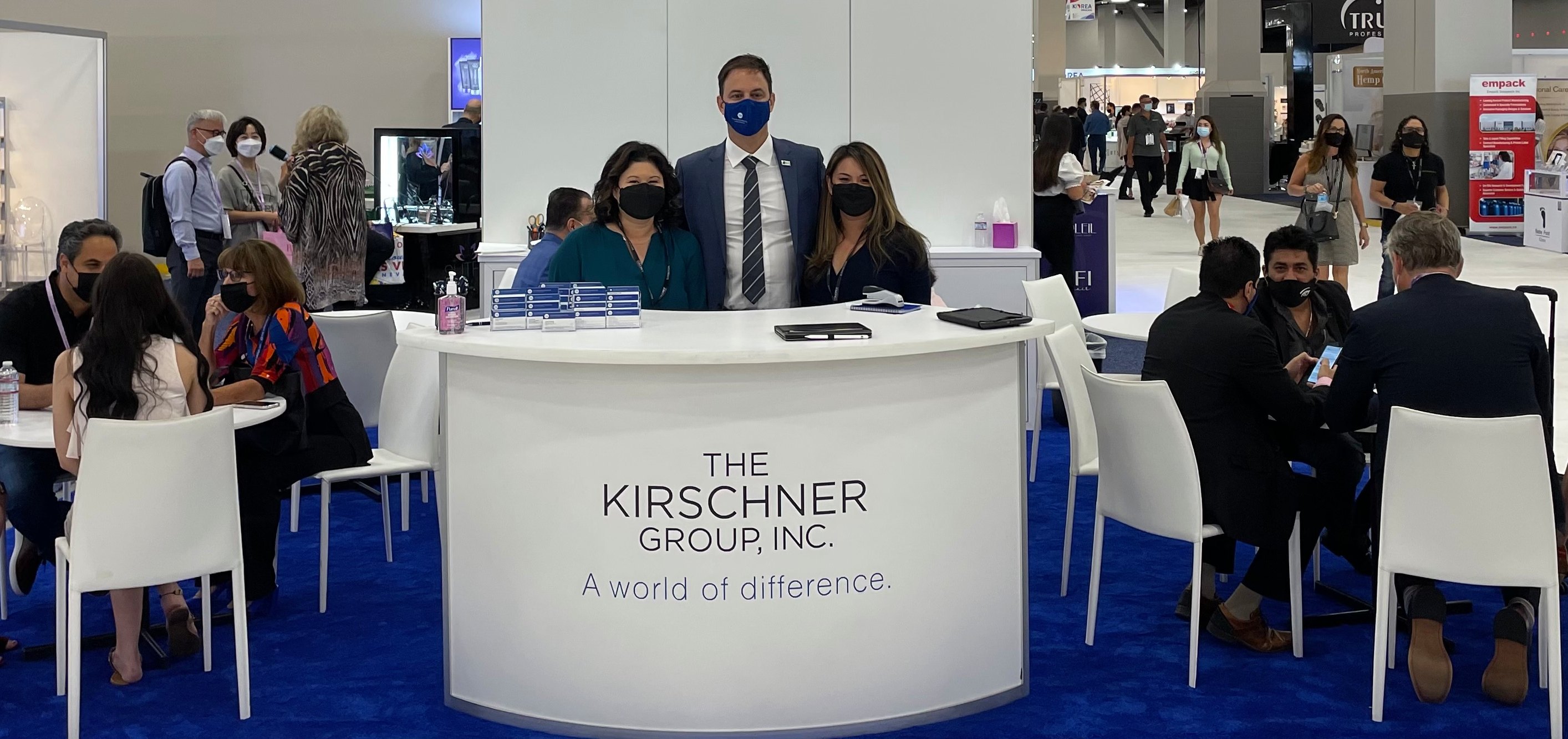 How did the Kirschner Group take part in the event?
"We had pre-booked meetings with over 40 international distributors and all our brands present at the show floor were amazed by the deals we were able to generate for them.
This was a very positive show for US business, too, with a good number of distributors attending and all willing to take advantage of the many deals and new products on offer".
What are your expectations for the near future of our industry, in the USA, globally?
"Our expectations for the future are to continue participating at all major beauty exhibitions with our own booth at COSMOPROF North America, Italy and Hong Kong.
We will also continue our participation in the various ECRM retail exhibitions, both domestic and international, which have been very successful for us – allowing us to connect with the leading retail chains worldwide.
In terms of brands, we are always scouting the market for new opportunities and unique products. We are excited about some new projects that The Kirschner Group will be able to launch soon, both for the domestic and international markets".
What is Kirschner Group strategy to take advantage of the post-pandemic recovery?
"During COVID, we were able to pivot quickly and adjust our strategies allowing our company to grow. We are now, even more than before, the largest and only global beauty representative company; able to take brands globally in every channel, such as Professional distribution, Retail distribution, E-commerce and even the TV Shopping Network.
During this difficult time, our organization was still able to visit accounts and drive their sales and marketing strategies to maximize the business for our brands, even when the brands responsible were not able to be reached in person because of the travel limitations. This has given our brands an advantage versus the competition and a better step to the recovery process.
We look forward to seeing you at the next exhibition and make sure to book a meeting with us to learn the latest trends and best distribution opportunities".