The Association Internationale Presse Professionnelle Coiffure (AIPP) has recently announced the prestigious AIPP Legend Award 2023 has been assigned to global hairdressing icon and entrepreneur, Franck Provost (France).
Franck Provost was awarded during a private ceremony held in Paris, France, in the presence of Mike Vincent, President of the AIPP, and Sergi Bancells, Secretary General. Well known for his creativity as a stylist as well as for his entrepreneurial skills, Franck Provost has left an indelible mark on the world of hairdressing.
"The specialized press has always been present, mostly at the beginning of my career, writing about my shows and publishing my collections. That has helped me a lot. Thank you for that," Franck says. "I have always admired Lluis Llongueras, first for the man he was, then for the artist, and also for the excellent quality of its salons. I am delighted to learn that he received the first AIPP Legend Award. It is a true honour for me to follow in his footsteps".
The Milestones
After starting his career as an apprentice at Lude and La Flèche, he quickly settled in Paris and opened his first salon in Saint-Germain-en-Laye in 1975. A pioneer of innovation, Franck Provost introduced the concept of continuous workdays and walk-in appointments. In 1979, he moved to Avenue Franklin-Roosevelt in Paris, a stone's throw from the Champs-Élysées, and in 1998. He marked his international presence by opening a salon in the Philippines. Aware of the power of the media, Franck became the hairdresser for the "Sacrée Soirée" in 1987 and formed a team dedicated to the entertainment industry. His talents have embellished the hair of many world stars, being the hairstylist in some prestigious events such as the Cannes Film Festival.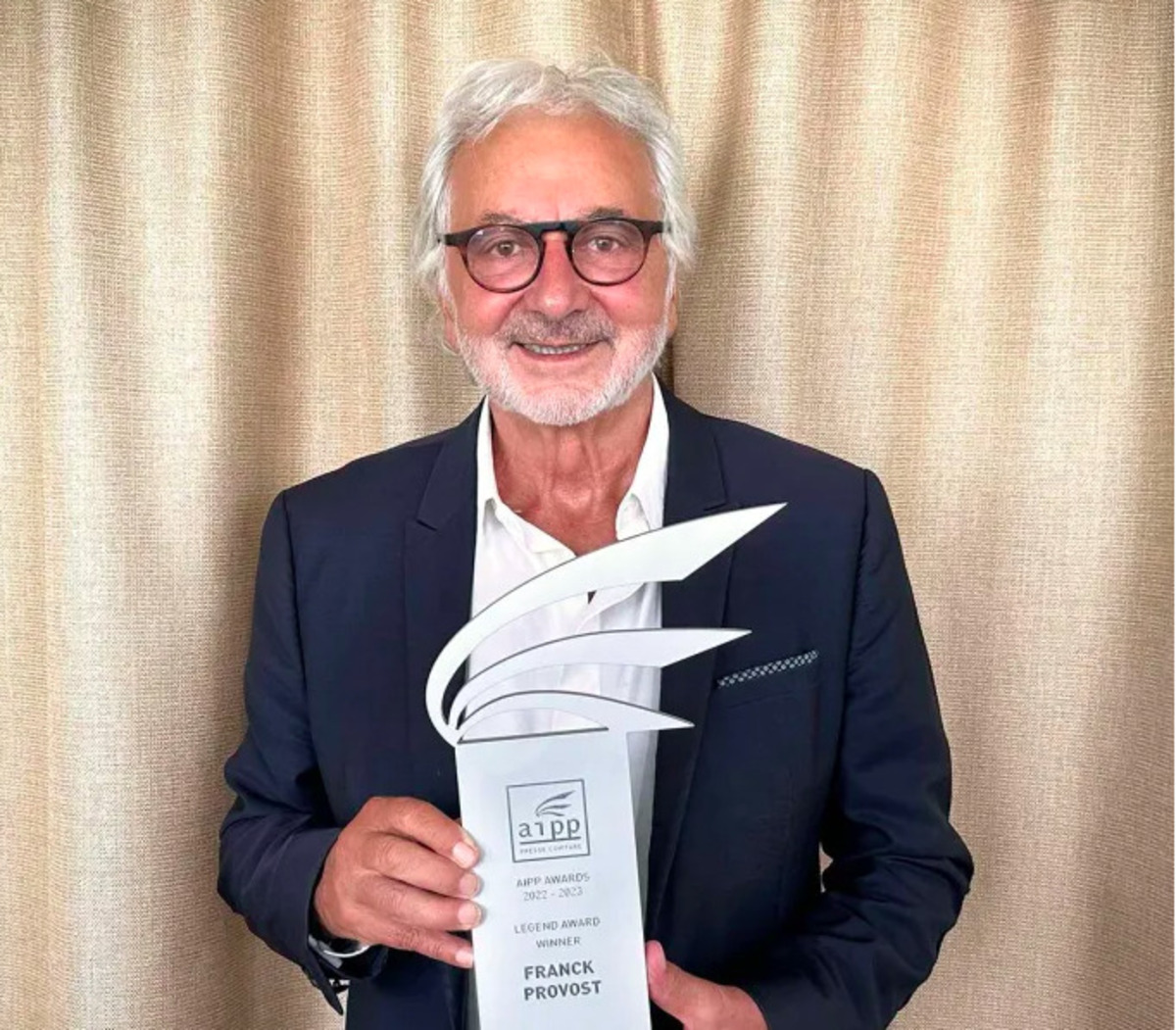 A staunch advocate for the profession, Provost developed his training academies and became president of Cnec in 2000. In 2008, Franck merged his companies with Regis in Europe, giving birth to Provalliance. This European hairdressing giant is proud to bring together renowned brands such as Franck Provost, Jean Louis David, Saint Algue and many others. Subsequent acquisitions, such as Brainwash Kappers in 2017 and Llongueras in 2018, consolidated its leadership in Spain. Today, the Provalliance group has more than 3,500 salons, serves 36 million customers per year and operates under 17 brands in 35 countries. Franck Provost's legacy bears witness to his unwavering commitment to the art and profession of hairdressing.
The Association Internationale Presse Professionnelle Coiffure (AIPP) is the association that brings together the best professional hairdressing magazines in the world, representing the value and importance of the professional press for hairdressers around the world.
AIPP LEGEND AWARDS HALL OF FAME
2013 Lluís Llongueras (Spain)
2014 Toni Mascolo (UK)
2015 Annie Humphreys (UK)
2016 Robert Lobetta (UK/USA)
2017 Klaus Peter Ochs (Germany)
2018 Patrick Cameron (New Zealand/UK)
2019 Bruno Mascolo (UK/USA)
2020 Raffel Pages (Spain)
2021 Jean-Luc Minetti (France)
2022 Charlie Miller (UK)
2023 Franck Provost (France)