An Interview with Leo Leong, founder of Glamour Salon System, one of the most innovative and successful Asian haircare product distributors.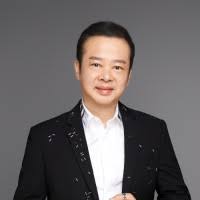 How has your company faced the troubles brought about by the Pandemic? How are you moving forward now?
"When it first happened, we thought of how we can help the salons pull through the difficult times which in turn will help us pull through as well. So, we started making attractive Salon Retail promo packs for the salons to introduce to their customers to balance the loss in services. We also advised distributors and salons on the importance of salon retailing. During 2020 we put together a lot of attractive promotions to help the salon cut some costs and make it easier for them to retail packages instead of just single products. Now we also conduct a lot of classes physically (due to travel restrictions I can only do it in Singapore, we have advised our distributors to do the same, as far as it is permitted, in their own countries) for the salons to upgrade their knowledge as well as salon marketing to help them identify and keep their best customers as well as promoting services that have higher return frequencies".
What are your hopes and plans for 2021?
"In 2021, we will continue to educate and help the salons to stabilize their business through scalp spa services and growing their salon retail with a focus on healthy living. We will try and influence those who are receptive to our business suggestions and has seen some improvements in their business, to work closely with us, attend more of our classes and change their way of managing their business and hopefully they will treat us as their business partner, not just as a supplier".
Do you believe online activities can help your business?
"Yes definitely! We are also trying very hard to convince salons to order online and we will also give incentives to do so. We are already sharing a lot of materials online to influence and attract consumers to our products and services".
What can be done to help the industry recover? What do we need to do and what are your expectations?
"There will be some business that will not survive and usually this group are also the ones that refuse to change the way they do business. However, those who can pull through will emerge healthier with better knowledge and business practices and this is good for the industry. We have been through several worldwide financial and pandemic crisis, although this Covid19 pandemic is the most serious and prolonged ordeal that has seen the light of day yet. However, I believe the industry will survive as we are still essential for consumers on the whole. We need to convince the hairdressers that they have to change to meet up with the needs of the new consumer behavior and those who can do that will still be successful in their business".
Did you take part in the Digital Week of Cosmoprof ASIA? How did you like it?
"Yes, we did participate and No, we did not really like it. It cannot replace the physical fair experience, far from it".
Innovative products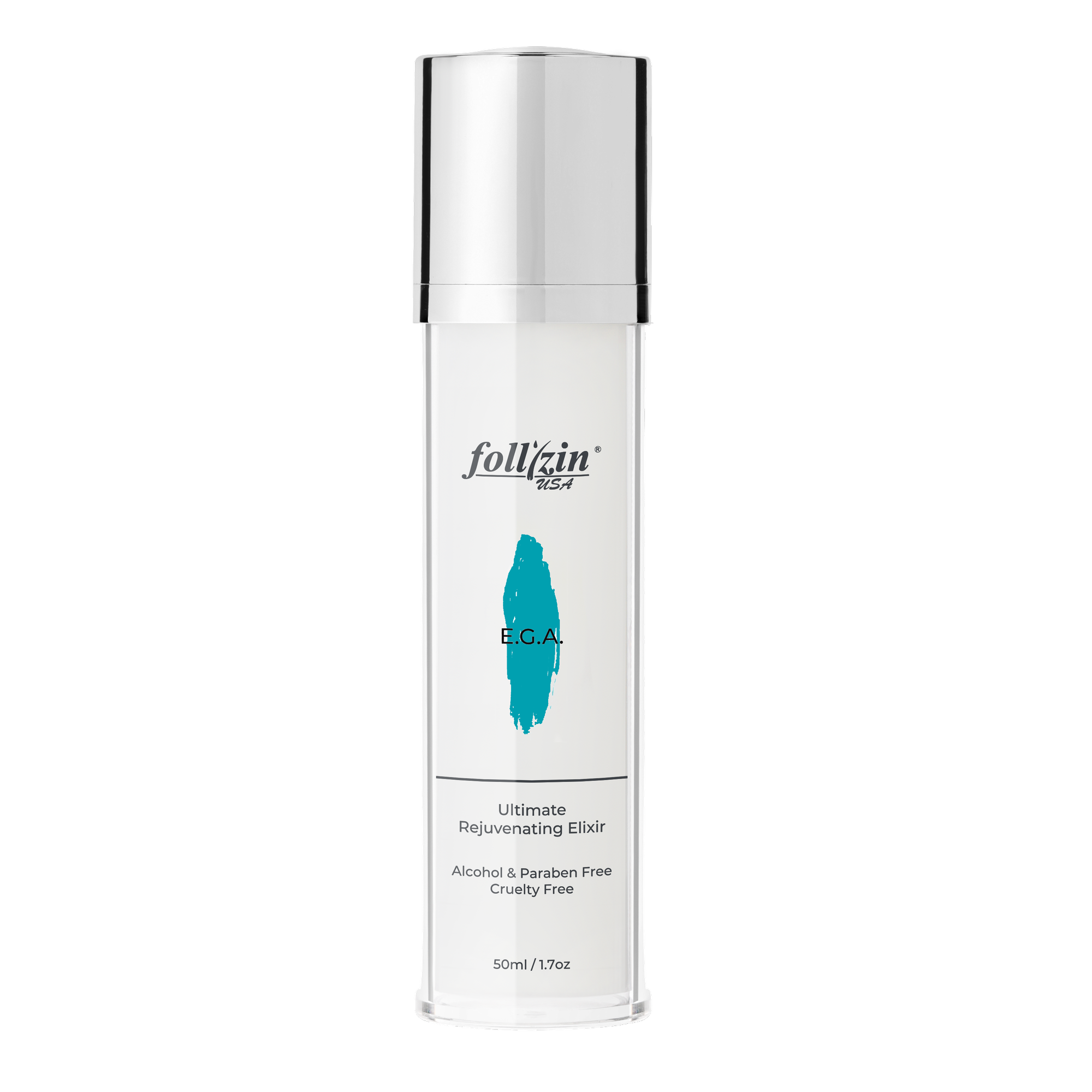 One new proposal in the vast catalog that Follizin has to offer is E.G.A. Ultimate Rejuvenating Elixir (E.G.A is a wordplay on AGE in reverse) was just launched. This antioxidant-packed scalp serum was designed to counteract the damaging effects that free radicals and reactive oxygen have on our scalp and hair, such as hair loss and premature aging. Daily use of E.G.A. can help prevent and control premature aging as well as hair loss.
Among the Special Features that make this product absolutely innovative we'd like to underline the Super Antioxidant Complex (SAC) A nano-size complex that penetrates deep into the dermis and the area surrounding the hair follicle. SAC has up to 800 times more collagen-generating ability than the placenta and its antioxidant power, which is up to 250 times more than vitamin C & E, remains in the skin for a longer duration and has better sustainability. It also protects against UV rays and blue light.
Remarkable also the Chondrus Crispus Extract red algae extract that contains a potent blend of antioxidants, polysaccharides, peptides and amino acids to help skin stay hydrated and shield the skin from blue light exposure as well as other damaging airborne pollutants.
Other important active ingredients: Avena Sativa (Oat) Peptide that improves blood flow and reduces chronic inflammation especially around the hair follicles.
Tamarind Seed Extract a vegetal equivalent of hyaluronic acid. Protects skin and hair against moisture loss, acting like a velvet moisture film. Able to improve skin and hair hydration by 42% compared to hyaluronic acid.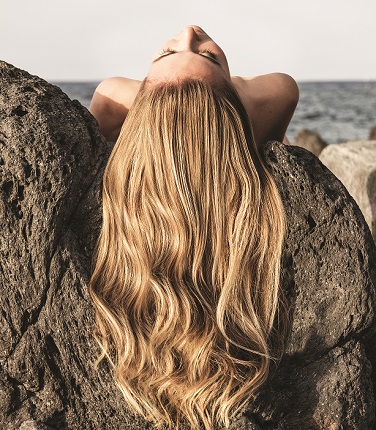 About GLAMOUR SALON SYSTEM
Professional Hair Care distributor in Singapore, founded in 1993 by veteran hairstylist – Leo Leong who has vast experience in the professional hair industry especially in the field of training and education.
Their goal is to provide top quality hair products and share their knowledge with the industry. They hope to bridge the gap between the hairstylists and the consumers' needs.
Over the years, Glamour Salon System has established a name as the leading Scalp Care and Hair Care Specialist in the professional hairdressing industry.
Partnership Brands: Follizin, Keune Haircosmetics Singapore.
Exclusive Distribution Rights: Be Hair, Revlon Professional, Eksperience, Nutrilux, Nanokeratin System, R System Japan, GAMA Professional.