The combination of these two events represents a major hair & beauty moment for Vietnam. The upcoming edition – from July 27th – 29th 2023 at SECC, District 7 – will include Plus Beauty e-Markets, an Online Beauty Community ready to be explored.
While international hair & beauty markets thrive, many Vietnamese manufacturing and distribution enterprises are facing difficulties. These include applying technology, strategies in production, distribution, communications, as well as selecting brands suitable for the Vietnamese market. By participating in this prestigious international event, participants will have the opportunity to address these issues and find solutions through insights shared by top industry experts.
Cosmobeauté Vietnam & VietBeauty represent the main gateway to approach, enter or expand the distribution of any brand – not only in Vietnam but also in the whole Asian Southeast region. After the first combination of the two in 2022, Informa Markets is presenting this second joint-venture between VietBeauty 2023 (6th edition) and Cosmobeauté Vietnam 2023 (14th edition).
Beauty E-Markets – an Online Beauty Community – will also offer previews and connections with exhibitors, together with the B2B & VIP Buyer Programme, as well as many more activities to make the Vietnamese fair alive and inclusive.
Exhibitors cover a wide range of beauty sectors including professional haircare products, equipment & solutions for beauty salons, skincare/personal care, make-up, tool accessories, beauty health supplements/food & beverages, medical aesthetic products & equipment, natural & organic products, perfumery, cosmetics & personal hygiene, packaging & processing equipment, nailcare & haircare products/equipment, development/R&D, contract manufacturing & private label (OEM / ODM) and raw materials.
Participants in the last edition expressed great appreciation for the chance to meet so many professionals from all over the world, with a rich representation of Asian buyers looking to do business. Informa Market is committed to offering another successful Viet Beauty & Cosmobeauté Vietnam event attracting numerous new brands and potential partners to represent Vietnam & Myanmar.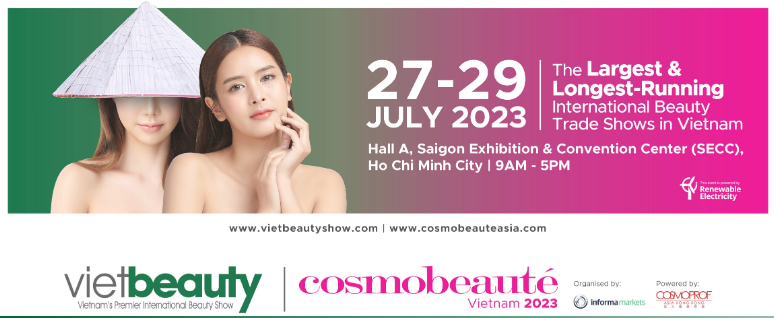 For more information:
click here for Vietbeauty
click here for Cosmobeauté Vietnam