As fairs go digital to help drive an upturn in business, WeCosmoprof launches an exciting new partnership from 5th to 18th October with the Chinese e-commerce giant.
All the main Beauty Fairs across the world are striving to invent new ways to serve their market, while travel for business is still largely limited and the pandemic seems far from over.
One of the most active in proposing brilliant ideas on alternative ways to keep in touch with potential and existing global business partners is Bologna Fiere-Cosmoprof, whose WeCosmoprof digital has successfully preempted the new physical edition which will take place in Spring 2021.
After a first experience held last May, WeCosmoprof is scheduled again from 5th to 18th October, offering an enriched program with a wide range of business services; the game changer of this edition being the collaboration with Alibaba.com, the leading global B2B e-commerce platform, part of the Alibaba Group.
For the duration of the initiative, the virtual pavilion WeCosmoprof x Alibaba.com will offer companies in the cosmetics industry an international showcase for the launch of their products, with the possibility of reaching over 20 million active buyers in 190 countries around the world. present on the Alibaba platform.
alibaba.com boasts the largest display of beauty companies in the world, as Beauty has performed the highest numbers in terms of users and companies represented.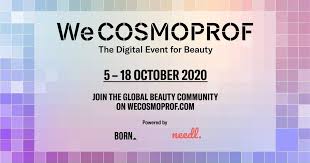 Thanks to unique technology and data analytics, the Alibaba platform allows suppliers, brands, buyers and distributors to get in touch with the most suitable operators for their business activities.
During WeCosmoprof, the digital pavilion of Alibaba.com will welcome both Cosmoprof exhibitors and brands registered on the online platform, offering the opportunity to create relationships with potential partners in new markets and thus increase their chances for business development and sales conversion.
"The participation of Alibaba.com is an important part of the WeCosmoprof project. This initiative offers highly technological business tools for the development of the cosmetics industry, – said Gianpiero Calzolari, President of BolognaFiere. – Thanks to the leadership gained in over 50 years of history, Cosmoprof has brought together the key players in the sector, BORN, Needl and Alibaba.com, to create a compact and highly performing system. Teamwork is our response to the next challenges for the industry: only by combining our individual skills, our innovations and our experiences is it possible to adequately respond to the new needs of the market. "
"WeCosmoprof is a business accelerator, which aims to give new impetus to allow companies and operators to exploit all the potential of the beauty system on a global level, – underlines Enrico Zannini, General Manager of BolognaFiere Cosmoprof. – With the participation of Alibaba.com, we will be able to guarantee wide-ranging international visibility to our exhibitors, increasing the number of new potential business partners and expanding our sphere of action to new countries.
Full details about the coming edition of WeCosmoprof will be disclosed during an online press conference scheduled for Tuesday 15 September, featuring representatives from WeCosmoprof and their event partners, BORN, Needl and Alibaba.com.
For more information: www.wecosmoprof.com