In an exclusive interview with Estetica Magazine, President of Coty Professional Beauty, Sylvie Moreau, discusses Wella Professionals' future development,  while unveiling amazing tech innovations for an augmented hair salon experience.
EsteticaNetwork met with Sylvie Moreau in Las Vegas at the world-famous Consumer Electronics Show (CES), where Wella Professionals showcased two revolutionary new developments in smart salon technology: the Wella Professionals' Smart Mirror and the Wella Professionals Color DJ.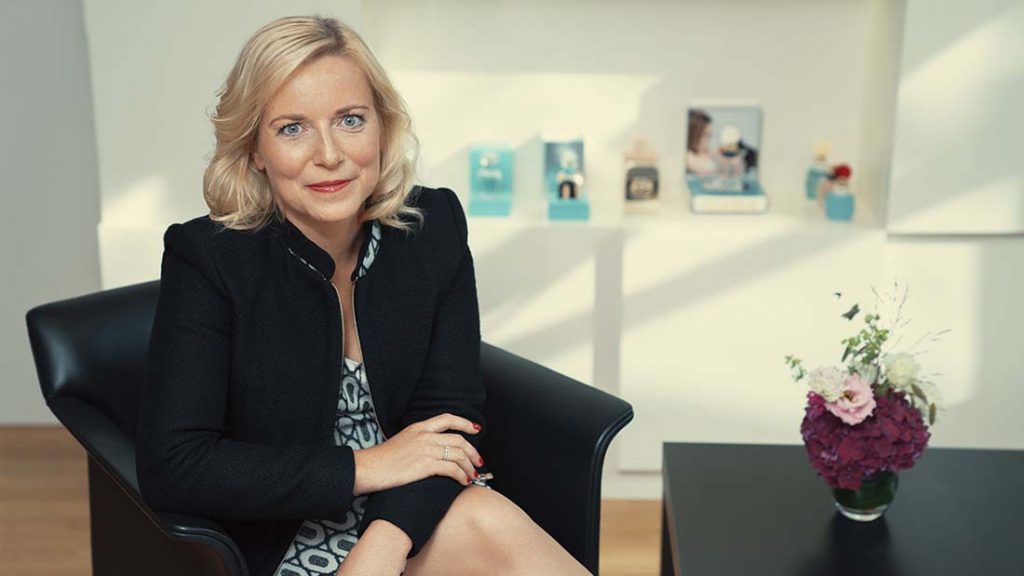 Sylvie, so why are you here in Las Vegas?
"For many reasons, but I would say that this is the place where the future is created and I thought that being here and staying in touch today and preparing tomorrow is part of a leadership role. This is more of a principle based reason, but of course in practical terms, we have a great vision for the augmented salon of the future and want to share the launch of Color DJ and Smart Mirror, two new tech and beauty service innovations. Wella is sending a strong message that we really care about the future of the salon industry: as industry captains, we see our role as creating the future of salons, to continue to create value and innovate the professional industry. And part of that role is about shaping the industry of the future."
What are the big trends and opportunities you see in the industry?
"I think the big trend is that the penetration of salons is already very high, so the growth is obtained not necessarily from more clients going to salons, but importantly by increasing the average ticket spent, and that's where we see the biggest opportunity to create value. When I look at the global predictions for growth in the future, color is going to be about 3% growth, but care –shampoo, conditioner, treatments– is going to be the big growth driver at over 4%, and that's partly linked to the omni-channel opportunity to actually bring salon products to more touch points. And really our role in this context where the average ticket spent growth represents value growth to our partners, is to support our industry by constantly bringing excellent product and service innovation, as well as innovative digital tech solutions, all designed to support our salon partners and to help them and their artists elevate the service value that their clients benefit from."
How great is to see hairdressers worldwide becoming more Internet and social media savvy every day?
"It's fantastic to see that Instagram is virtually becoming the hairdressers' online portfolio. They are really embracing more digital and social as the gateway to education. It used to be really face-to-face as the first touch points on education, and now the gateway to education is actually Instagram. And that interest actually increases our reach. We are talking about the most social community there is. Hairdressers are social by nature, they are a tight-knit family. These peer-to-peer connections are enabled by social media across time zones, languages and cultures, making hairdressing a true global community. And as an example of how strong this is, we launched our Wella Digital Community Platform on Facebook less than two years ago and now we have 23,000 pros who every day exchange and coach each other, give each other solutions: 'I want to do this look on this client. What are your suggestions?' The level of interaction is absolutely phenomenal. So I would say that social media is a fantastic way for hairdressers to grow their business, stay connected and stay educated."
What innovations are forthcoming in the different brands?
"Wella and Coty Professional Beauty are truly committed to innovation – that is product innovation but also service innovation oriented to help shape the future of our industry: the Wella Professionals Color DJ offers 60 billion colour combinations possible so salon clients walk away with a bespoke, take-home product uniquely tailored to their individual needs, while Wella's Smart Mirror enhances the hair colour experience from consultation to aftercare with live augmented reality. Above all else, we are extremely proud of the Koleston Perfect with Me + technology total brand re-stage which has been rolled out globally to tremendous success. On the back of that, in 2020, we are launching new shades of Illumina, which is our premium line solution, and we are launching two new service innovations to take Balayage to the next level. One is Illuminage, a new form of Balayage that offers softer transitions and a more luminous end look. And then we're going to roll out Brazilian Illuminage, inspired by the kings of blond, who are Brazilians, and by Romeu Felipe – our new global colour ambassador. That's a great example of service innovation – premium services that only hairdressers can do and can help elevate the ticket. And as you know, blonds are hard to maintain, so it's also an opportunity to continue to sell your take-home products to protect that service.
Of course, we have a very big innovation with WeDo on the full-on eco-ethical trend. Clearly the new generation want more ethical solutions for both the hair and the planet. So we are very proud to have launched in the test market of Sweden, Norway, Finland and Denmark. And we will roll out in 2020 to the rest of the world. A great solution that is really our best combination of professional performance –on which we will never compromise– together with our best answer to being full-on ethical, so that it's a minimalistic formula with 50% less ingredients, it's formulated with 100% recyclable plastic, free of all the ingredients that consumers want to see less of, and it's also vegan certified and CFI certified… but very importantly, it's a high-performance product.
Also, great news in ghd with the launch of Helios, which is a new lightweight professional hairdryer that drastically cuts blowdrying time and comes in four great colours. With Helios we have better control so we can achieve smoother results with 30% more shine. So a great innovation in ghd after Platinum Plus, our best styler ever, and Glide, the brush that broke the Internet. And the fantastic Oracle which for now is exclusively for salons.
And on SebMan, in the second year after the launch, we are introducing three new hair thickening products which address the number one hair concern: hair thinning. We have exciting news ahead so professionals can count on us to remain relentlessly focused on bringing innovation designed to fuel the growth of our partners and our industry."
We guess 2020 is a very special year for you as Wella is celebrating its 140th anniversary.
"Yes! We're celebrating the 140th anniversary of Wella as well as the 40th anniversary of OPI and the 20th anniversary of ghd – so 2020 marks an incredible 200 years combined anniversary of these three iconic brands. Wella Professionals, the number one professional hair color brand in the world, OPI the number one nail salon brand in the world, and ghd as the preferred styler in the world have two things in common: they were not built in one day and they have stood the test of time. And it is wonderful to see these global leading brands culminating in 200 years together in 2020. No doubt it's going to be a big year. It's also going to be a decisive year in our business, as back in October Coty announced its intentions to focus more on cosmetics and fragrances. So we will be looking at where the professional business will best fit. I'm very confident in the future. I know that for this team and for this business we will stay stronger than ever as we write another very successful chapter all together. And I want to reassure our partners that throughout this period we will remain committed to supporting their business. We have had a very strong past few months, so we are stronger than ever and for sure together we will have a big, big year in 2020."
So you're renewing the Wella Professionals brand claim to "Make Change" even after 140 years?
"Exactly, after 140 years, we are not here to sell tubes of color, but to move the industry forward through the power of positive change. That's the purpose of Wella and what it means for us is a number of things. This power of positive change is about moving the salon business forward by using the best possible tools and materials to create a positive change for the client and the client's look.
Positive change is also moving the stylist's career forward by giving them the skills they need to become change-makers wherever they are in the world. It is of course about moving the color category forward by pushing for new and better services. It's about moving the industry forward, transforming it in this digital world in a positive way rather than being fearful of the future, embracing the future. And clearly it's about making positive change for the profession by creating a network of passionate change-makers and champions."
With the new augmented salon platform featuring Smart Mirror and Color DJ, Wella opens the door for a new era of the salon experience.
"Yes, and what I found really inspiring is that, when you think back, to the backbone of the professional industry for 140 years, we've been experience-based and been about personalisation and bespoke transformation for each client. And the beauty of Internet and the Internet of Things is that it's an enhancer of experience and an enhancer of personalisation. So if we embrace the future in a positive way, we can realise that the Internet of Things is making what has always been the foundation of professional beauty and take it to the next level. That's why we need to embrace it fully, because it actually gives immense value to reinforce a highly personalised service."